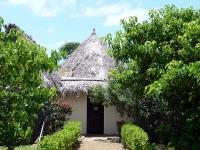 Punta Teonoste
Location
about an hour from Tola (Southern coasts, Nicaragua)
Description
A small, beach front eco-hotel with over a kilometre of private, sandy beach and individual ocean view cabanãs. The spacious, open sided communal building has a palapa roof, tasteful decor and overlooks the pool and beach. There is a bar, restaurant and small shop.
Activities
Lovely pool, small Spa, gym, mountain bikes, riding and surfing. There is also a turtle nursery.
Accommodation
The 17 cabanãs are rustic, with colourful furnishings and are slightly different but all have two floors and the same main features including a palapa roof, wooden floor, terrace with a hammock and ocean view. Downstairs there is a sitting area, a bedroom and the bathroom (outside and cold water only). A narrow spiral staicase leads up to the main bedroom (open sided) and a toilet. Mosquito nets are provided but there is no ceiling fan and the air-conditioning is a portable unit.
Our comments
Beautiful surfing beach. Very tasteful communal areas but the cabanãs are rustic.