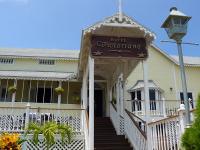 Hotel Victoriano
Location
San Juan del Sur (Southern coasts, Nicaragua)
Description
A colonial style house, built in 1902 as a family residence with the design of the English Victorian era, just across the road from the beach. Many of the original features have been retained during the renovation work, old pictures are displayed throughout giving it a traditional feel and the pretty pastel-coloured woodwork and open courtyard make it feel cool and airy. It has a lovely aspect, overlooking the bay, an outdoor pool, bar and restaurant.
Activities
Excursions can be organised to nearby beaches along the coast.
Accommodation
There are 21 rooms, 13 in the original section of the hotel, around the central courtyard at the front, with the newer rooms at the back, further from the reception, communal areas and beach. There is also a deluxe room with a balcony and an ocean view.