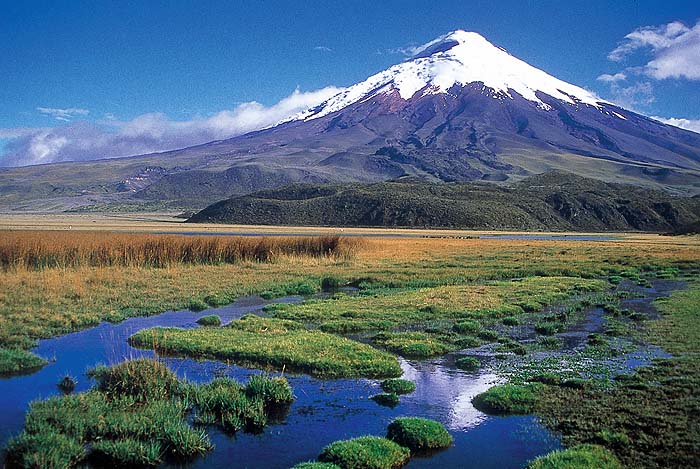 Classic Ecuador
a journey by rail and road through this culturally-rich country with volcanoes and colonial gems
This 11 day overland trip takes in the highlights of Ecuador's mainland, from the beautiful colonial cities of Quito and Cuenca, the countryside of the northern sierra, along the renowned 'Avenue of the Volcanoes', to the 'Devil's Nose' train journey.
To enquire about this itinerary, or one like it, please email us or click the Enquire button.
Itinerary summary
Quito
Days 1-2: Spend the first two nights in Quito, allowing time to acclimatise and to explore this UNESCO World Heritage site. Visit some of the city's highlights on a guided tour.
Northern Sierra
Days 3-4: Travel north by road for a couple of hours to spend two nights near Otavalo. The town itself is famous for its markets, and the nearby villages of Cotacachi and San Antonio are well-known for their traditional handicrafts. Other possible activities include riding, walking and mountain biking.
Southern Sierra
Days 5-6: Head south along Humboldt's 'Avenue of the Volcanoes', visiting the high lakes and remote steppe of the national park that surround Cotopaxi volcano. Spend two nights just outside the park in a traditional Ecuadorian hacienda, from where the views are stunning. Other possible activities here include riding, walking, mountain biking and zip lining.
Cuenca
Days 7-11: Journey south to Riobamba for one night, ready for an early start for the Devil's Nose train from Alausi, a series of dramatic switchbacks, the following morning. Continue south by car through verdant countryside, visiting the small but well-preserved Inca site of Ingapirca. Spend a night close to the site before driving further south to the colonial university city of Cuenca for the last two nights. Take a guided city tour to fully appreciate the rich culture and beautiful buildings that can be found here. On the final day, visit Cajas National Park, stopping for a short hike, before descending to the port city of Guayaquil for onward connections.
Go Further
With extra time a trip to the Amazon is highly recommended. Fly to Coca and join other guests for a motorised boat trip, followed by a canoe ride, to a remote jungle lodge for three or four nights. Skilled guides lead small group activities, including jungle walks, night-time canoe trips, and early morning bird-watching.
Accommodation options
In the following section you will see our suggested options for possible accommodation.
The estimated flight cost included in this itinerary (assuming international flights from the UK plus any internal flights that are necessary) is £840 per person.
Price and validity notes
We have tried to give you as accurate an idea of prices as possible, including meals where appropriate (but not when there are good local options so you don't pay for a meal that you might not want), accommodation, transfers, and any tours we have included.
All prices are per person based on two people sharing a room and are intended as a guide (local high or low seasons can cause some variation). All prices were correct when published but may vary with exchange rate fluctuations, fuel surcharges, or changes in the general economic situation.