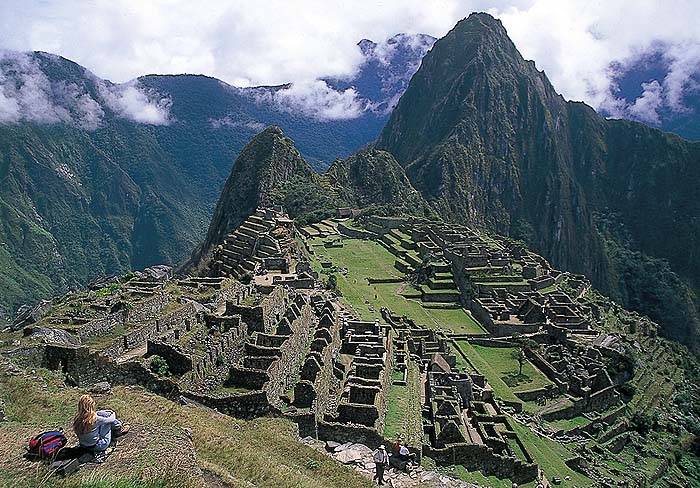 Classic Peru
experience the living culture of Peru through its colourful, authentic Andean cities, sacred lakes and iconic Inca ruins
A wonderful 14 day sweep through the majestic Andes of southern Peru visiting colonial cities, steep terraced valleys, high lakes, lush valleys and the Inca citadel of Machu Picchu.
To enquire about this itinerary, or one like it, please email us or click the Enquire button.
Itinerary summary
Lima
Days 1-2: Arrive in Lima, which has a number of interesting museums including a Gold Museum and the well known Larco Herrera collection.
Arequipa and Colca - condors and canyons
Days 3-6: Fly south to Arequipa. Two nights gives you a chance to explore this relaxed and elegant city: squares surrounded by beautiful white buildings, the walled Santa Catalina convent complex, and overlooking everything the distant cone of El Misti volcano. Half a day's drive away is the breath-taking Colca valley, with unspoilt Andean villages, astounding views, and one of the best opportunities to view condors in Peru. You would have two nights here - where there are mountain biking, riding, and walking opportunities.
Lake Titicaca - the birthplace of the Incas
Days 7-8: Continue (4-5 hours on a paved road) to Puno for two nights on the shores of the world's highest navigable lake. Take a day trip to the floating reed island of Uros and remote Taquile, known for its inhabitants' fine weaving.
Cusco - the navel of the Earth
Days 9-11: A 10 hour journey on the Peru Rail Titicaca train brings you to Cusco (or take the tourist bus that stops at points of interest along the way and departs daily). Stay for two nights in the ancient Inca capital, with a fascinating mixture of colonial and ancient Inca architecture. There are fine restaurants, good museums, and many interesting side trips.
The Sacred Valley and Machu Picchu
Days 12-14: Spend two days in the Sacred Valley, with its colourful markets and picturesque ruins, with a trip to the Inca citadel of Machu Picchu in between. Visit ruins in Chinchero, with a chance to visit its famous market if you happen to be there on a Sunday, and a fine Inca fortress at Ollantaytambo. For those who prefer more of a thrill you can white water raft or mountain bike, both extremely popular here. On day 13 take the morning expedition train from Ollanta to the town of Aguas Calientes, where you will be met for a private guided tour of Machu Picchu.
Go Further
Inaugurated in 2017 the luxury Belmond Andean Explorer sleeper train runs between Arequipa and Cusco. There are two itineraries to choose from - a one night Cusco to Puno journey or a two night itinerary from Arequipa to Cusco via Puno or vice versa. Both include all food and drinks plus excursions from the train.
Accommodation options
In the following section you will see our suggested options for possible accommodation.
The estimated flight cost included in this itinerary (assuming international flights from the UK plus any internal flights that are necessary) is £1,230 per person.
Standard - £5,430
Casa Andina Premium Puno - A comfortable hotel about 20 minutes from the centre of Puno, with lovely views over Lake Titicaca.
Colca Lodge - this lodge is in an idyllic setting beside the Colca river and has its very own hot springs.
Villa Barranco - A delightful boutique hotel in a quiet area of Lima's bohemian Barranco district.
Price and validity notes
We have tried to give you as accurate an idea of prices as possible, including meals where appropriate (but not when there are good local options so you don't pay for a meal that you might not want), accommodation, transfers, and any tours we have included.
All prices are per person based on two people sharing a room and are intended as a guide (local high or low seasons can cause some variation). All prices were correct when published but may vary with exchange rate fluctuations, fuel surcharges, or changes in the general economic situation.