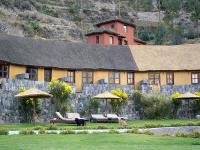 Colca Lodge
Location
Colca Valley (The Colca Valley, Peru)
Description
A very comfortable lodge built with traditional materials set in lovely gardens leading down to the river. The hotel has a shop, two restaurants and a small bar with sitting area. The best thing is their own hot springs down by the river bank, with lots of good minerals for your skin!
Activities
They have several horses and a small boat to go fishing.
Accommodation
Rooms are large with TV and safe, the upper rooms have a small balcony and the lower rooms have a small terrace. The suite has both floors and idyllic views of the river.
Client comments and reviews
Colca Lodge is in beautiful surroundings. Good food, lovely hot springs, but beds not very comfortable. - AB (October 2016)
The best hotel of the trip was Colca Lodge. We enjoyed everything about it - the restaurant, the hot springs, the camelid farm, the information centres but especially the setting. - GC (September 2016)
The Colca Lodge was very good. The staff were very helpful and the restaurant was excellent. - JM (November 2014)
Colca Lodge was excellent. It was very cold at night there so we enjoyed the little touches of luxury like underfloor heating. The thermal pools were good too, but freezing when you got out. - SH (June 2013)
Colca Lodge was in an amazing location and the meals were excellent. Saw several condors in the Colca Canyon and one flew right overhead. Quite an experience! - AT (June 2012)
What a beautiful location. The children loved the thermal springs, and walking around the grounds, meeting the alpacas. The restaurant was very good though the shower in our room was terrible (important detail when you are travelling). - SI (August 2011)
Colca Lodge is lovely, anyone who goes really should have a massage at the spa! - CL (April 2010)
One of our favourite hotels (although we liked them all) was Colca Lodge for its amazing location and food. - SG&RC (August 2009)
Thermal pools and Pisco Sours go very well together! The perfect end to a day especially when the Condors had performed in the morning. - MM (September 2008)
Just the two of us, in the thermal pool, dark all around and the stars above us - what can I say wow, wow, wow! - AB (July 2008)