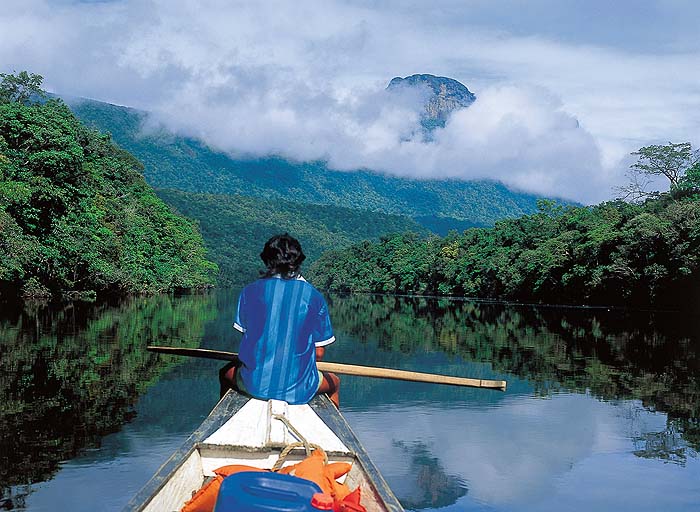 Classic Venezuela
table-top mountains, bountiful wildlife, mighty waterfalls and idyillic, deserted Caribbean beaches
A 16 day itinerary exploring this diverse country that includes the Andes, ancient landscapes, wetlands and beaches, and the mighty Angel Falls (highest in the world).
To enquire about this itinerary, or one like it, please email us or click the Enquire button.
Itinerary summary
Caracas
Day 1: Your first night is nearly always spent in a hotel on the coast below Caracas, close to the airport.
Mérida and the Andes
Days 2-5: Fly to Mérida, an interesting and colourful university town at 5,000 feet, which gives it a permanent spring-like climate. Lush valley floors are surrounded by the snow-capped peaks of the Andes. There is some excellent bird-watching and walking. This is also the starting point of the longest and highest cable car in the world. A final night is spent in the high Andes, taking in the unique flora and scenery of the steppe (páramo).
The Llanos: wetlands and wildlife
Days 6-8: Descend, and cross the Llanos (plains) to a ranch surrounded by the abundant wildlife of these seasonal wetlands. The region is home to over 300 species of bird, countless capybaras, and large predators such as caiman, anacondas, jaguars and ocelots. Guided excursions are by boat and vehicle.
The Gran Sabana
Days 9-11: Fly south to the Gran Sabana, a timeless and ancient region of waterfalls, table-top mountains, and gallery forest (you will need to break the journey with an overnight in either Caracas or Puerto Ordaz en route). Two nights are spent on the banks of the beautiful Canaima lagoon, an oasis for local wildlife (toucan, macaws, various parrots, woodpeckers), from where there is the option of taking an overflight of the majestic Angels Falls.
Caribbean beaches
Days 12-15: Fly north to Los Roques, (a night in Caracas is normally required for flight connections) an archipelago of forty-two beach-ringed cayes in the Caribbean sea. The main island (Gran Roque) is a perfect base for three nights, during which you can take boat excursions to different cayes. There is good snorkelling and diving and it is the ideal place to relax and soak up the Caribbean sun.
Day 16: Fly back to Caracas for international flight connections.
Accommodation options
In the following section you will see our suggested options for possible accommodation.
Standard - price not available - to be updated