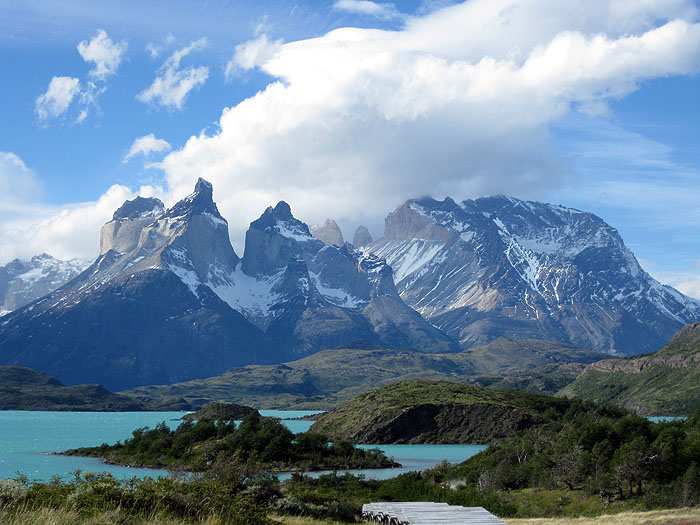 Southern Chile
lakes, glaciers and towering peaks
An 11 day loop combining the stunning national parks of Chilean Patagonia with Santiago and the charming coastal port of Valparaiso.
To enquire about this itinerary, or one like it, please email us or click the Enquire button.
Itinerary summary
Santiago and colourful Valparaiso
Days 1-3: Arrive in Santiago and spend two nights in Chile's cosmopolitan capital, with time enough to explore the city and visit the highlights before heading through the wine area to Valparaiso. This bustling port, linked by lifts to the residential area with its beautiful Victorian-styled mansions, was once home to wealthy traders.
The Lake District
Days 4-6: Fly from Santiago south to Puerto Montt at the heart of Chile's southern Lake District for three nights in Puerto Varas. This small town is on the banks of Lake Llanquihue, overlooking Osorno volcano, and the whole area is ringed by national parks, with excellent walking, riding, and fishing (in season). Close by is the fascinating 'emerald' island of Chiloé, with a penguin colony, shingled wooden churches and mystic traditions.
Torres del Paine: peaks and glaciers
Days 7-10: Fly south to Punta Arenas and head north (4-5 hours' drive) into the Torres del Paine, arguably South America's most spectacular national park, whose granite peaks rise steeply above glacier-fed lakes. A four night stay is just enough time to take advantage of the walking or riding trails, and a boat trip to the face of the Grey glacier is a truly incredible experience.
Day 11: Return to Punta Arenas for a flight back to Santiago and onward connections.
Go further: walking in the wilderness
Southern Chile offers some excellent walking opportunities; the stunning and diverse landscapes combined with the wealth of national parks make it the perfect destination for trekking enthusiasts. Torres del Paine National Park is the most famous for independent walking. Adding on a day or two to this itinerary would allow time to complete the classic W Trek - a route through the French, Grey and Asencio valleys taking in the spectacular highlights of the park from east to west. The walk offers wonderful views of the towers and cuernos (horns). Accommodation is basic - camping or staying in refugios (simple dormitory-style lodges) en route.
There are various border crossings (Punta Arenas, Puerto Natales to Calafate, or in the Lake District) where connections can sensibly be made to Argentina.
Accommodation options
In the following section you will see our suggested options for possible accommodation.
The estimated flight cost included in this itinerary (assuming international flights from the UK plus any internal flights that are necessary) is £1,350 per person.
Standard - £5,400
Estancia 440 - a lovely, homely, guesthouse in the Germanic town of Puerto Varas.
Hotel Orly - a good value, comfortable option in the happening Providencia area.
Patagonia Camp - a luxurious yurt camp just outside Torres del Paine National Park where excursions are normally included.
Price and validity notes
We have tried to give you as accurate an idea of prices as possible, including meals where appropriate (but not when there are good local options so you don't pay for a meal that you might not want), accommodation, transfers, and any tours we have included.
All prices are per person based on two people sharing a room and are intended as a guide (local high or low seasons can cause some variation). All prices were correct when published but may vary with exchange rate fluctuations, fuel surcharges, or changes in the general economic situation.