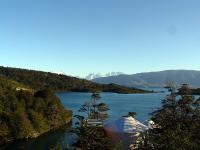 Patagonia Camp
Location
Torres del Paine (south) (Torres del Paine, Chile)
Description
A very comfortable yurt camp on the shore of Lake del Toro, just south of the national park. There is a spacious dining/bar area, a good area to mingle with other guests. All rooms have views over the lake and towards the central Torres del Paine massif.
Activities
The all inclusive programme includes shared transfers to and from Punta Arenas, Puerto Natales or Cerro Castillo (the border with Argentina), all meals, drinks and daily excursions in small groups.
Accommodation
Each of the 20 independent yurts is beautifully designed and nestled amongst the trees and shrubs for privacy. They all have heating, a private terrace and a window at the top of each yurt allows you to watch the stars at night.
When to go
Open from September through to April.
Client comments and reviews
We were pleased we'd chosen Patagonia Camp. It was lovely and we didn't see any other establishment which we would have preferred. The yurt was warm, quite spacious and attractive, with fabulous views of the lake and the Paine massif in the distance. We had exceptionally good weather, and could see the mountains in the early morning light and in the setting sun. It was so calm that I was able to kayak on the lake one evening. The lodge offered a good range of excursions. We started with the fauna excursion, which was not too demanding, and we saw plenty of wildlife. The second day we went on the boat to the Grey glacier, which was an easy day, but worth it. Then on the third day we did the a viewpoints walks - one in the morning and one in the afternoon. As the weather was so fine, we had magnificent views. The guides were enthusiastic and knowledgeable, and the staff very welcoming. It was rather nice being out of high season, as there were not very many people there, so the groups on the excursions were small. - FN (March 2017)
The accommodation was first class as was the food and the service. The staff and guides couldn?t do enough for us and it was a terrific base to explore the park. They treated everyone the same whether you wished to potter on short walks or go for the strenuous hikes. Some guides preferred to talk to the guests and explain all about the flora and fauna on the short walks, whilst others liked striding out. The guides were rotated and as a measure of the standard of the staff we couldn?t choose anyone who stood out above the others. - PH (February 2015)
Patagonia Camp was brilliant, the guides were great and the food was very good. - AJ (February 2014)
The yurt in Patagonia camp was fantastic and so comfortable. The food was spectacular and the scenery out of this world. We did the trip to Grey Glacier and the walk to Mirador Cuernos, brilliant! - JM (February 2009)