Welcome to our latest round-up of Latin America news and staff travels. In this issue:
Staff reports: Hannah explores Costa Rica and Panama; Nikki heads off the beaten track in Argentina
Your feedback: Bolivia, Costa Rica, Argentina, Brazil
Upcoming events: Destinations Olympia

Hannah explores Costa Rica and Panama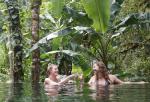 It's work, honestly!
Nikki in northern Argentina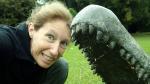 Nikki and friend
Nikki was at a trade show in Buenos Aires and took the chance to make a circuit of the Iberá wetlands, a wildlife spectacle comparable to the Pantanal or Llanos of Colombia and Venezuela. She was lucky enough to be guided by Leslie Cook, a local resident and friend of ours, who has been involved in emerging tourism projects for some time (he was the first manager of Estancia Rincón del Socorro when it was bought by Doug Tompkins' Conservation Land Trust). Read her trip report here:
www.lastfrontiers.com/articles/view/nikki-heads-off-the-beaten-track-ibera-argentina-september-2018
Your feedback
Thank you very much for the comments that follow - we rely on client feedback to keep us up-to-date and informed.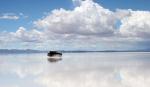 Salar de Uyuni
Bolivia: "Thank you once again for organising such a wonderful trip to Bolivia for us!! The holiday had so much variety and we stayed in the most amazing places. I think the highlights (for me) were probably the Condoriri hike, the Amazon and the trip across the salt flats and the altiplano. It was nice that you punctuated the holiday with some super walks. Chalalan Lodge was just perfect - the boat trip upriver was an adventure in itself and on the way back we were so lucky as we saw a jaguar on the bank of the river and at the airport there was a boa on the runway! The whole trip across the altiplano to Chile was just fantastic - punctuated by lake after lake, all different and stunning and somehow getting progressively more and more remote. We saw vicuña, vizcachas, a friendly Andean fox, geysers, the most amazing desert scenery. There aren't enough superlatives. So all in all a fantastic holiday."

SH - September 2018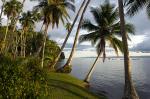 Playa Cativo
Costa Rica: "Thanks for arranging a brilliant holiday. For me, I think the highlight was staying in the Nayara Springs hotel and visiting the hanging bridges. Our guide there was excellent and showed us how to photograph wildlife through a spotting scope. We also saw whales and dolphins on our excursion from Playa Cativo and on our last night the hotel laid on a special dinner for us. We'd certainly go back to Costa Rica, maybe in the dry season next time."
ST - July 2018
Fernando de Noronha
Argentina/Brazil: "Where to begin? We had a great time, saw lots and pretty much everything from your end ran like clockwork, thank you for that. It does make life easy when someone has prepared all the groundwork and your travel booklet was also very helpful. Once our finances have recovered we would love to see more of Central/South America and will be back to you. Thank you Sue for all your invaluable help and guidance, we would certainly recommend Last Frontiers - a terrific holiday, loved it."
VB - April 2018
Upcoming events
We will be at the Destinations Travel Show (London Olympia, from 31 January to 2 February 2019). Emily and I are doing a joint presentation in the Meet the Experts theatre on Thursday afternoon: "Off the beaten track in Patagonia". We will have a supply of free entry tickets to the show, and will send a reminder to those in the south-east nearer the time, but if you'd like to put your name down for one now please just let us know.
With best wishes from all at Last Frontiers
Ed
--
Edward Paine
Last Frontiers Limited
Tel: 01296-653000 | info@lastfrontiers.com | www.lastfrontiers.com
The Mill | Quainton Road | Waddesdon | Buckinghamshire | HP18 0LP