Welcome to an early autumn round-up of Latin America news and staff travels. In this issue:
Office news
Brazil puts on a successful Olympics
Last Frontiers' Top Three: Ancient Sites with Pyramids
Costa Rica: Sue spots a quetzal, and Nicola explores the Osa Peninsula in depth
Press news: Jaguars in the Pantanal (BBC2, tonight)
Office news
Nicola and I went aboard the newly refurbished and renamed Hebridean Sky while the cruise ship was in Portsmouth for a few hours between voyages - she heads to Antarctica next month. We thought the ship was exceptional, in particular the very spacious cabins - even the 'lower' categories - and the delightful expedition staff and crew. The Hebridean Sky has a couple of Shackleton Centenary departures this upcoming season, spaces on which are still currently available on the second departure (23 February - 13 March 2017).
We are recruiting. If you know anyone who might like to join our small, friendly team, and has the eye for detail and commitment to great customer service that the job entails, please ask them to have a look at the Working For Us page of our website:
Brazil puts on a successful Olympics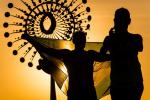 Initial concerns about Brazil's ability to put on a successful Olympics have been well and truly dispelled, particularly by the Paraylmpics where it is lovely to see the locals finally getting into the spirit of things (and the commentators realising how fun-loving Brazilians are). As we did for London 2012 we have been running a Rio 2016 Latin American Medal Table, and you can keep up with the results here:
www.lastfrontiers.com/articles/view/olympic-medal-table-for-latin-america
Last Frontiers' Top Three: Ancient Sites with Pyramids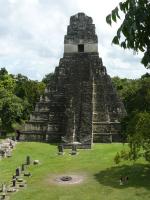 Tikal
Tikal, Guatemala
Tikal is a vast and magnificent Maya site, inhabited between 600BC and 1000AD, which cannot fail to impress. Its pyramids emerge from the verdant jungle of Guatemala's Petén region, howler monkeys can be heard at dawn, toucans and macaws flit above the jungle canopy, and jaguars keep themselves well-hidden.
www.lastfrontiers.com/itineraries/classic-guatemala
"I walked through the national park to the famous high pyramids, marvelling at how people with no knowledge of the wheel, no draught animals, and no slaves had managed to construct such massive buildings. Like mountains, the pyramids looked down silently on us visitors busy with our cameras." - DP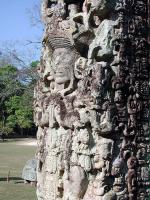 Intricately carved stela, Copán
Copán, Honduras
Copán is known for its intricate and beautiful carvings (more hieroglyphic carvings have been found here than any other Maya site), public squares, a unique hieroglyphic stairway and fully restored ball court. Visitors can also explore the tunnels, dug by archaeologists searching for earlier structures under the existing acropolis. The archaeological work involved has been immense: after nearly 100 years' work (it was rediscovered in 1839) only 25% of the site has been investigated. The city had four main stages of development between 100 and 900AD. The following itinerary visits the site (and it can easily be added to any Guatemala itinerary):
www.lastfrontiers.com/itineraries/classic-honduras
"Copan - a memorable site, the sight of the reconstructed temple at the entrance of the museum was probably the biggest wow factor on the whole trip". - MC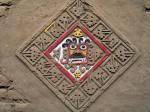 Moche relief at Huaca de la Luna
Temple of the Moon, Peru
The Huaca de la Luna is near Trujillo, a short flight north of Lima. It was built by the Moche people between 100-800AD in layers like a Russian doll, with a new level added every 90 years or so (there are six). Archaeologists (this is the largest excavation project in South America) continue to make new discoveries, making this a fascinating place to visit. The nearby Temple of the Sun was built from 180 million adobe bricks but was badly damaged by the Spanish colonists in their search for treasure. You can visit this area on our Northern Peru sample itinerary:
Sue spots a quetzal in Costa Rica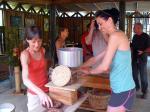 Sue and Nix try the local chocolate
When it comes to Costa Rica the rainforest, wildlife, birds and beach appear on most wish lists. Earlier this year Sue went on a 'nature and wildlife' trip: "My trip included excursions in search of the resplendent quetzal, which I was lucky enough to spot. Staying in rainforest lodges gave me the opportunity to experience the abundance of wildlife from dawn to dusk - from the howler monkeys screeching to the crickets chirping. A stop for coffee and homemade delicacies with a local family on the Nicaraguan border and making chocolate were real highlights of my trip."
www.lastfrontiers.com/articles/view/sue-spots-a-quetzal-in-costa-rica-may-2016
Nicola explores the Osa Peninsula in depth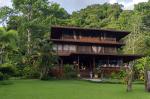 Playa Cativo
Following ten nights in Costa Rica with Sue, Nicola jetted off alone to explore the wild and remote Osa Peninsula: "Described as the 'most biologically intense place on earth' by National Geographic, this region should definitely not be missed by wildlife enthusiasts. The rainforest is abuzz with action - from the monkeys swinging from the trees, frogs croaking at your feet or macaws screeching from above. And what's more, the land-based life is only half the story as the waters surrounding the peninsula are fantastic for dolphin and whale watching, and a dream come true for the keen snorkeller and diver."
www.lastfrontiers.com/articles/view/nicola-finds-paradise-in-costa-rica-may-2016
Last Frontiers in the press - Jaguar spotting in the Pantanal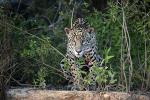 Jaguar in the pantanal
Tonight's episode of Natural World is called 'Jaguars: Brazil's Super Cats', on BBC2 at 9pm. The programme, narrated by Sir David Attenborough, was filmed at Caiman Lodge in the Brazilian Pantanal and was produced and directed by Joe Stevens. Joe is a good friend of ex-Last Frontiers team member Simon Heyes, who now runs a very successful representation company in Bristol.
Our next newsletter will have reports from Claire who is currently in southern Brazil, while Nicola heads off to Guatemala and El Salvador next week.
As ever, do let us know if we can help you plan a new Latin America adventure!

With best wishes from all at Last Frontiers
Ed
--
Edward Paine
Last Frontiers Limited
Tel: 01296-653000 | info@lastfrontiers.com | www.lastfrontiers.com
The Mill | Quainton Road | Waddesdon | Buckinghamshire | HP18 0LP
"Last Frontiers were strongly recommended to us so we had confidence that we were booking with experts/specialists, but this was completely born out by your attention to detail in advising on how we should divide up the time available and then making the arrangements for it. We would not hesitate to recommend your services or any of your arrangements".- IM