Welcome to an autumn update from Last Frontiers. In this issue:
Staff reports: Nikki and Emily were in Brazil; Ed was in Chile for their winter (and an eclipse)
Your feedback: Galapagos, Peru
Upcoming events: Oxford, Cambridge, Harrogate and Olympia
Brazil - Nikki compares Pantanal and Amazon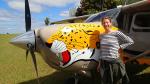 Nikki goes flying
While in Brazil Nikki lived a nature enthusiast's dream and visited both the largest rainforest and the largest wetlands on earth. She discusses whether the Amazon or the Pantanal is better for spotting wildlife, and describes the two contrasting and very comfortable lodges she stayed in.
www.lastfrontiers.com/articles/view/brazil-wildlife-pantanal-or-amazon
Chile - Ed visits Torres del Paine in winter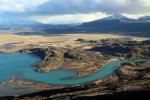 My river
Brazil - Emily reviews Jericoacoara hotels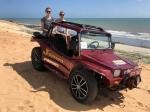 Emily near Jeri
Emily was in north-east Brazil with her sister, exploring the white-sand dunes and turquoise lagoons of Lençois Maranhenses national park before embarking on a 4x4 journey along the coast to the scenic fishing village of Jericoacoara. We'll hear about the journey next time, but here she gives a useful round-up of hotel options in Jericoacoara.
www.lastfrontiers.com/articles/view/emily-jericoacoara-hotels-may-2019
Your feedback
Just two examples of the lovely feedback we have received since our last newsletter:
Mary Anne
Galapagos: "I have travelled fairly extensively but I can say that the Galapagos is the most unique place I have ever visited and it was my most memorable holiday ever. Like a lot of people I have seen many TV programmes showing the fabulous wildlife in the islands but always thought that the pictures were the result of special cameras and telephoto lenses recording from a considerable distance.
To find the wildlife so very close and so utterly unafraid of humans was breath-taking and I am still having to pinch myself to make me realise it was not a dream. The courtship display of the waved albatross, frigate birds with their red throat sac, blue and red footed boobies, iguanas so numerous that it is difficult not to step on them, snorkelling with playful seals showing off their aquatic prowess and the sedate lumbering giant tortoises will long remain in my memory.
Your recommendation of the Mary Anne was spot on. I had been looking for some time for a boat that did not charge a single supplement and it was down to you that I found the Mary Anne which ticked this box. In addition, being a sailing craft, it was completely different to all the other boats sailing around the Islands which made the voyage even more spectacular. Everything on the boat was first class from the cabins, the meals, to the wonderful crew. Above all the route taken on this cruise took us to some of the more remote islands where the best of the wildlife was to be found. Other people I spoke to later in my holiday who had been on other more central cruises had not seen half the wildlife that we had come across.
As to the organisational side of the trip I have nothing but praise for the excellent service provided by Last Frontiers, from the initial advice and help you gave me in the planning stage to the actual delivery. I will certainly recommend your company to my friends. Sorry to have written at such length but that is what happens when one experiences the holiday of a lifetime!"
PC - May 2019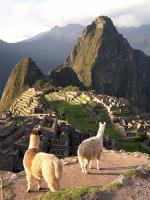 Machu Picchu
Peru: "The trip was amazing. The planning and execution were nearly flawless and it was exactly what we were looking for: a real introduction to Peru, with the cities, Amazon rainforest, and above all the Andes with high-altitude trekking, Inca history, an introduction to the people, culture and cuisine.
The vistas, the vast spaces, the mountains, the camelids, the people we saw and met - I thought I was prepared but everything was beyond my expectations. I felt a real peace and joy during our walks that I have rarely felt at any other time. The Inca trail and Machu Picchu were also fantastic. These are more touristy and not as awe-inspiring as the vast solitude of the Lares trek itself, but they are extraordinary and we are so happy to have experienced them!
I can barely begin to describe the wonders of the trip and just how good everything was at every step of the way! I cannot recall a vacation that was so smooth and so wonderful, and that is really thanks to Last Frontiers and your great planning, ideas, contacts, and responsiveness to our needs."
HD - August 2019
Upcoming UK events
Later this month we have a table at both Oxford and Cambridge's alumni days, and then we are attending two public travel shows before the end of the year:
The Wildlife & Safari Travel Show (wildlifesafarishow.com) is from 12-13 October at Harrogate Convention Centre. We have a stand (M340) and I am giving a talk on big cats of Latin America on the Saturday. Doors open at 10am and tickets cost £8 if booked in advance, but we have 6 tickets (each admits 2) available on a first come first served basis.
We are returning to the Condé Nast Luxury Travel Fair (www.luxurytravelfair.com) at Kensington Olympia (London) from 7-10 November. Find us on stand B20. Again, if you would like free tickets please let us know. We don't have paper tickets but can give you a code for free entry (online registration will be required).
Next time we will hear from Lizzy (currently hopping between Chile and Easter Island), Emily (who is heading down the route of volcanoes in Ecuador, after cruising in the Galapagos last week) and Sue, who is busy preparing for a riding trip in the Pantanal. And I'm off to Argentina, to finalise possible viewing sites for next year's total solar eclipse.
With best wishes from all at Last Frontiers
Ed
--
Edward Paine
Last Frontiers Limited
Tel: 01296-653000 | info@lastfrontiers.com | www.lastfrontiers.com
The Mill | Quainton Road | Waddesdon | Buckinghamshire | HP18 0LP