Chile is a land of extreme landscapes, from the world's driest desert in the north to the icy fjords and glaciers of the south. Squeezed between the Pacific Ocean and the Andes, this long, narrow country stretches nearly 3,000 miles. The famous Carretera Austral, Chile's iconic southern highway has opened up Chilean Patagonia's land of hanging glaciers, towering mountains and mist-shrouded temperate rainforest. It starts in Puerto Montt (the Lake District), and crosses 1,247km of rugged and remote terrain to the northern shores of Lago O'Higgins, from where the only way south is by boat, or by backtracking and taking Argentina's Ruta 40.
Driving the stunning, pristine route takes one through verdant forest and past hot springs to remote towns and through a spectacular array of landscapes from rugged steppe, narrow gorges and mountain ranges.
https://www.lastfrontiers.com/itineraries/driving-the-carretera-austral
Northern section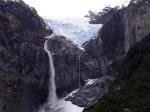 Queulat hanging glacier
To drive the entire route one needs about a month but by driving a section of the route one will receive a wonderful introduction to this wild and pristine region.
The Northern section takes one south through verdant forest and past hot springs, to Hornopirén, a small fishing village at the northern end of a long Pacific fjord. Pumalín Park, an isolated area of mountains, fjords and volcanoes stretches the width of and is a privately owned park which covers a pristine wilderness of temperate rainforest, volcanoes, sheer granite rock faces and countless hot springs, much of it only accessible by boat.
https://www.lastfrontiers.com/chile/regions/northern-carretera-austral
Southern section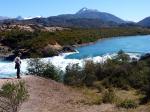 Baker-Nef confluence
The Southern section passes through imposing mountains, across rugged steppe and through narrow gorges before it opens out as it reaches the picturesque scenery bordering the crystal blue Lake General Carrera. Continuing south arrive to Tortel, a charming and unusual village established at the turn of the 20th century by cypress loggers, which has 'streets' that are wooden walkways over steep hillsides and the calm waters of a Pacific fjord. The final ferry of the Carretera Austral, at Puerto Yungay, leads to the final 100km stretch of road and the remote settlement of Villa O'Higgins.
https://www.lastfrontiers.com/chile/regions/southern-carretera-austral