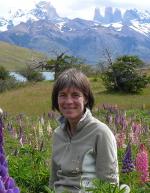 After various jobs working and travelling around the world Sue started her travel career with 6 years at Trailfinders before joining Last Frontiers in 2001. Highlights of her numerous recce trips since then have included riding in Chile, Uruguay, Ecuador and Argentina. As a wildlife enthusiast an amazing 'Classic Antarctica' cruise was hard to beat and two further cruises around the Galapagos have not been too arduous! Brazil's Pantanal, Guyana and hiking in Peru have also been top trips.
More recent travels have taken her back to Chile (both the Atacama Desert and Patagonia) to the colonial heartlands and Yucatán peninsula of Mexico, Costa Rica and Panama, Guatemala and Honduras, the colonial towns in Minas Gerais and the state of Santa Catarina in Brazil, Nicaragua and El Salvador, North-west Argentina and Colombia.
Most memorable moment
A very difficult question! Riding through the Puelo Valley from Chile to Argentina, swimming our horses across rivers, riding over high passes and staying with wonderful local families whose hospitality was unforgettable.
Top tip
Travel with a sense of adventure, have fun and enjoy the special moments with your own eyes, not always through a camera lense.
Next 'must see'
My list is never ending - so many places to see but Bolivia is very high on my list with its diverse scenery, from the high Andes to the Amazon basin, culture and history.
Sue's recommendations
Colombia - Try a Lulada cocktail when in the Valle del Cauca department of Colombia. Made from the exotic lulo fruit, it is often served with a shot of gin on the side, and is the definition of sweet and sour!
Uruguay - Get off the beaten track and venture to the sleepy fishing village of Punta del Diablo, literally meaning 'Devil's Point'- a great place to relax and chill out on the beach.
Honduras - If you don't know how to pronounce the capital Tegucigalpa, take a tip from the locals and simply call it "Tegús".