In 2020 a total solar eclipse passed over Argentine (and Chilean) Patagonia, and had it not been for the pandemic a small group of Oxbridge alumni would have been there to see it. Several of those who had signed up for that trip were still enthusiastic about Argentina so we designed a tour focusing on astronomy and wine, which our trip scholar, Oxford's Professor Roger Davies, was happy to lead.
Welsh Patagonia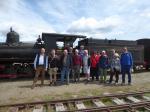 Our group with La Trochita
Given Roger's own Welsh roots, I decided we would start in Welsh Patagonia, in the small town of Esquel which by happy chance is also the place to see "La Trochita" (literally the "little gauge", also known as the Old Patagonian Express). We gazed at southern hemisphere stars, enhanced by a keen local with a large telescope, visited a fascinating winery called Contra Corriente which is making wine at the southernmost limit of that endeavor, and admired Welsh chapels in Esquel and Trevelin.
Mendoza and the north-west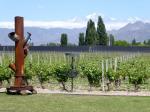 Maal winery
Flying north to Mendoza, we visited three contrasting wineries. Mendoza itself has a pretty and leafy city centre, with some lovely squares, and although its surroundings are quite arid and suburban it is the undisputed capital of Argentina's quality wine industry.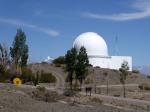 Casleo observatory
From here we drove north-west, parallel to the Andes, to El Leoncito National Park, where the country's most important and largest telescope is to be found. Roger had secured an invitation to look around, and was asked to give a talk to enthusiastic astronomy students from San Juan university. At night, with the sky crystal clear, we were again able to appreciate the wonders of the southern skies.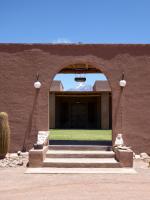 Hotel entrance
Our hotel here was the Posada Paso de los Patos in Barreal, with just 11 rooms. What a gem: it is owned by two couples from BA who spend alternate fortnights looking after their guests. There is enough to do here to spend 3-4 nights, ideally with a hire car.
La Plata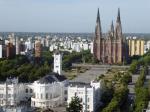 La Plata
Finally we visited the city of La Plata, capital of Buenos Aires province. Largely bypassed by foreign tourists, it was only founded in 1822 and is laid out most attractively as a square with two diagonal avenues, a large central square and smaller parks every six blocks. We visited the beautiful neo-Gothic cathedral (the largest church in Argentina) before being shown round the historic telescope at the La Plata University.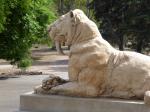 Statue at La Plata museum
A particular highlight for me was a visit to the highly-respected natural history museum (Museo de La Plata) which houses 3 million fossils. The most important character in the establishment of the Museo de La Plata was Francisco "Perito" Moreno (1852-1919). Moreno spent many years exploring Patagonia, at the time inhabited by nomadic Indians, and was the first non-indigenous person to see lake Nahuel Huapi (Bariloche) and Lago Argentino further south, whose glacier now carries his name.