I remember the 1999 partial solar eclipse in England, and helping our children follow Blue Peter's clever instructions to reflect the sun's rays onto a screen to avoid damaging eyes. That eclipse was only total in Cornwall and even there I seem to recall clouds trying to spoil the show. In 2016 the Oxford and Cambridge University alumni offices suggested we organise a group trip to northern Chile to see the 2 July 2019 total eclipse and put me in touch with Oxford's Professor Roger Davies as a potential trip scholar and to discuss details.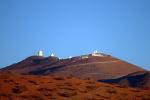 La Silla Observatory (ESO)
Roger's enthusiasm was infectious, and given the lack of infrastructure in the relatively little-visited part of Chile that the eclipse would cross, and my memories of 1999, I soon found myself offering to accompany the group. Many of the world's most powerful telescopes have been (and are being) built on mountaintops in northern Chile, and Roger's department had been involved in instrument design for one of them (AURA's Gemini South, on Cerro Tololo) so his local knowledge was invaluable.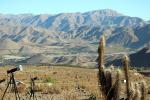 Ready to go
Our visit involved two great imponderables: how many visitors to expect, and the weather on the day. Visitor predictions had ranged from the tens of thousands to millions, but the weather statistics were as good as one could want with a high chance of clear skies, particularly away from the coast. As it happened, there wasn't even a sea mist on eclipse day, and so the many visitors could spread themselves over a larger area than originally hoped for to wait for one of our solar system's most amazing events.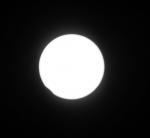 The first bite
Once installed on our chosen hilltop it was just a matter of waiting, on a windless day with a cloud-free sky. Roger counted us down to the start of the partial phase at 1520, protective glasses were donned, and we all looked for that magical 'first bite', as the dark moon nudged up against the edge of the sun. One of our party had brought solar binoculars, an invaluable aid at this early stage.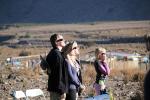 Partial eclipse
Within a few minutes the light was already different; eerie, more and more colour was drained from the surrounding landscape, and the heat of the day began to feel as if it was being drained by a colder atmosphere. Previous total eclipse observers told me stories of wild animals approaching people for reassurance, and I wished I had organised a vicuña or two (our arid hillside was completely devoid of wildlife!).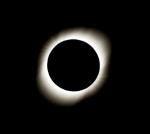 Totality
Totality approached, and after just over an hour, at 1638, the sun was transformed into a suspended diamond ring in the sky - a new and completely unexpected experience for me, and a sight of incredible beauty. Glasses were removed, a few cameras clicked, but overall everyone just watched in wonder and waited for the all-too-brief minutes of totality to pass. After a couple of minutes, a few stars became visible as our eyes accustomed themselves to the darkness (longer eclipses allow this effect to be more visible, and we were helped by being in the brighter southern skies).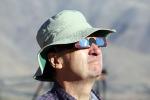 Professor Roger Davies
Finally the magic was broken, and after an initial spark of brilliance as the sun emerged from the moon's shadow the whole process reversed and the Earth seemed to reawaken; it felt like a collective release of breath as normal chatter resumed. Then, 40 minutes' later a final and unexpected highlight: the still-partially-eclipsed sun setting below the stark ridge of a small hill to our west - its final red-orange disappearance eagerly watched with naked eyes.
Roll on December 2020!
Interesting facts
The next total eclipse in La Serena, Chile, will be on 28 August 2231. For Latin America as a whole we have 14 December 2020 (Chile/Argentina), 4 December 2021 (Antarctica), 8 April 2024 (Mexico/US), and then we have to wait until 2045.
Solar eclipses occur when the moon's shadow falls on Earth. A total eclipse is when the shadow completely obscures the sun, and an annular eclipse when the moon is too far from the earth to completely block out the sun. Total solar eclipses occur on average every 18 months and on average last 3 minutes. The longest theoretical total eclipse is just over 7 minutes.
Useful links
Our alumni tours: www.lastfrontiers.com/alumni
Northern Chile: www.lastfrontiers.com/chile/regions/the-north
Sample Chile itineraries (tailor-made): www.lastfrontiers.com/chile/itineraries
Photo credits
Many thanks to David and Les - their pictures were so much better than mine. The image at the top of this article was taken by Les Hatton, hand-held, and clearly shows solar 'prominences', which can extend hundreds of thousands of kilometers from the Sun's surface.