When I was invited to visit a selection of luxury lodges in Costa Rica I couldn't have been happier, as this is a country that I had long wanted to visit.
With its unbeatable biodiversity, varied landscapes, and the ever-important conservation and environmental efforts that are becoming increasingly appreciated by holiday-goers, it's easy to see why Costa Rica is such a popular destination.
I spent two weeks travelling the length of this small country on my first trip to Central America, and here are just some of my highlights from along the way. Hopefully it might inspire some of your future holiday plans.
Pacuare Lodge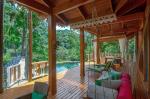 A Canopy Suite
After a night in San José at Grano de Oro, probably our favourite city hotel, the first stop was Pacuare Lodge, deep inside the jungle on the Pacuare river. I could not really have hoped for a better start to my time in Costa Rica, and this was perhaps my favourite lodge of the whole trip. There is a real sense of adventure from start to finish, even just arriving to the lodge involves 5 miles of white water rafting down the river to the entrance. People who do not want to do the rafting can still stay at the lodge, as there is also a (bumpy) road and a cable pulley river crossing which can be taken instead. The lodge is a real feat of logistics due to its remoteness and also its self-imposed limitations to stay true to their ethos of sustainability. In spite of it this everything runs like clockwork and the level of service is very impressive.
You definitely feel cut off from the outside world here, and luckily the lodge has more than enough activities that cover the full spectrum of adventurousness. Each day guests meet with staff to discuss the next day's activities and choose a combination that suits them. There really are a lot to choose from, so I only had a chance to try out a few. I opted for the zip-lining and quite a strenuous full day hike to an indigenous dwelling.
Aside from the activities, this piece of jungle is a beautiful place to just be in. At first it is a bit of an assault on the senses, but once you have settled in it is easy to sit for hours on your balcony listening to the sounds of the forest and observing the wildlife. It is definitely worth staying here for at least a couple of nights, or ideally more!
www.lastfrontiers.com/hotels/costa-rica/the-central-highlands/pacuarelodge
Tortuguero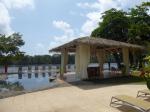 Tortuga Lodge
I especially liked Tortuguero as a destination because its distinct afro-Caribbean influence is in contrast with the rest of the country, and I think it's a good way to add extra variation to a holiday.
The canals and waterways of the Tortuguero National Park are both the means of arriving to and the source of most activities at the lodges in Tortuguero, which in my case was Tortuga Lodge. The property is part of the Boena group, who also own Pacuare Lodge, Lapa Rios and Monterverde Lodge, and the level of service you can expect here is equally impressive.
Again, the wildlife did not disappoint. The large canals are great for boat safari trips, we saw plenty of howler and spider monkeys, American crocodiles, crabs, lizards and too many birds to keep track of. You can paddle through the narrower mangroves by kayak or canoe to boost your chances of seeing a jaguar. There is a sea turtle centre nearby, and although I was not there at the right time of year to see the hatching process (which is from July to November) it was still worth a visit.
An unexpected highlight for me was taking a domestic flight on one of Sansa Airlines' small propeller planes, which is a popular way of getting to and from Tortuguero. Not only does it save a lot of time, but it also gives you an amazing view of the countryside that you can only see from up in the air. It took less than 60 seconds to do my check-in and pass through security, which amounted to one man with a notepad and some bathroom scales, and it turned a 5 hour transfer by boat and road to Arenal into a 30 minute scenic flight.
www.lastfrontiers.com/hotels/costa-rica/tortuguero/tortugalodge
The Osa peninsula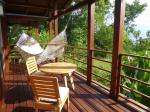 Deluxe casita
My final stop in Costa Rica was a real highlight too, the Golfo Dulce on Costa Rica's Pacific coast. Here I stayed at Playa Cativo, a picturesque lodge hidden on the coast amongst the palm trees. As far as arrivals go it really is quite spectacular, you don't realise you are arriving until the jungle suddenly opens up along the coast and it is time to get off the boat. On the boat ride to the lodge we were followed by a family of dolphins, and saw several pairs of scarlet macaws flying above.
This is an ideal place for snorkelling and any other water based activities. A guided tour of the lodge's own farm and herb garden, where they grow their own ingredients to make the food in the restaurant, is included and is certainly worth visiting. The food in Costa Rica overall was another unexpected highlight, Playa Cativo being no exception, who knew rice and beans could taste so good?
www.lastfrontiers.com/hotels/costa-rica/the-osa-peninsula/playa-cativo
These are just a few of my highlights, but I also visited Arenal, Monteverde, Manuel Antonio, and Uvita which are all a valuable addition to any itinerary in their own right, and combine very well with all of the places I've mentioned.
I had high expectations for Costa Rica after hearing so much positive feedback from people who had been, and I'm happy to report that it does live up to all of the rave reviews. The wildlife you can hope to see is incredible and there is a lot of variation packed into a small country which makes it perfect for a two or three week holiday.