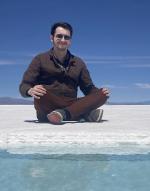 Elliot's fascination with Latin America began with his Spanish studies 10 years ago, and he has spent the years since taking any and every opportunity to spend time in the region, including a stint at university in Buenos Aires where he survived the lockdown drinking fernet (an Argentine classic) and perfecting his steak-cooking skills. His travels have taken him on a series of trips all over Latin America, ranging from highly organised country tours to decidedly unorganised hitchhiking adventures.
Aside from his escapades in Argentina, Elliot has also been on trips to Brazil, Uruguay and Cuba, as well as working as a volunteer in Peru teaching English and building schools.
Top tip
A great starting point when trying to learn some of the local language is to learn numbers. When you are travelling, a lot of the really important stuff involves numbers! (prices, times, addresses, buses etc)
Next 'must see'
There are still a lot of places that I want to visit, so it's quite hard to say. I haven't yet spent any time in central America, and going to see ancient Aztec and Mayan ruins is definitely high on my list.
Elliot's recommendations
Argentina - Try and learn some lunfardo (slang that widely peppers Argentine Spanish) to blend in with the locals. You may notice that language and dialect is quite distinct here to the rest of the Spanish spoken in Latin America.