As the newest addition to the Last Frontiers team, I was thrilled to be given the opportunity to travel to 3 countries of Central America in October. Having only previously visited Mexico in the region, I was very excited to get the chance to go to Belize, Costa Rica and Guatemala for a 3 week, whistle-stop trip. My first destination was Costa Rica and with its reputation as a leading adventure and wildlife destination, I had high hopes!
Costa Rica
My trip began in the capital, San José and I had a few days to explore other parts of the country before returning to the city for a travel conference, the prime reason for my trip.
After a night in the capital to refresh, we headed out west to the Central Pacific Coast, a tropical and wildlife rich area of the country just a 2 hour drive from San José. Our first stop was the mangrove forest area of Puntarenas, for a boat trip through the mangroves along the Guacalillo estuary. The biodiversity was impressive and within just 15 minutes of the trip we had already spotted scarlet macaws, crocodlies, racoons and two species of monkey. A pretty good start!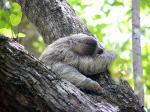 A three-toed sloth in Manuel Antonio National Park
Onwards towards Manuel Antonio, midway along the Pacific coast and a must-visit for many travellers to Costa Rica. With forested hills and swamps, two beautiful beaches, diverse wildlife and fine hotels, it's easy to see why. My hotel was set high above the coastline, surrounded by tropical rainforest and with lovely ocean views, a prefect base to explore the main draw of the area, Manuel Antonio National Park.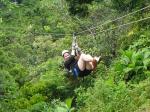 Ziplining through the Costa Rican jungle
After a day exploring the National Park (in which I was lucky enough to spot a couple of Sloths!), we headed back to the capital via rainforest adventure park for a 'canopy tour' This is one of the most popular adventure activites in Costa Rica and is what the locals call ziplining. There are many different areas throughout the country where this is possible, and most involve several lines high in the trees with the added bonus of a cable car ride and wildlife spotting opportunities. My guide pointed out various species of monkeys and birds as we rode the cable car high into the rainforest canopy, before a series of cables and platforms awaited us for the trip back down! The 10 lines vary in length and gradient (some are over 65ft long), and it really was an adrenaline fuelled activity!
Guatemala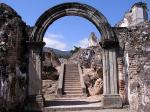 La Recolección Architectural Complex
After a few days of work in the Costa Rican capital, I flew to Guatemala City for my short, 5-day trip in the country. With its 'living Maya' culture, colourful markets, colonial cities and stunning scenery, Guatemala had long been on my list, but even with such high expectations it did not dissappoint!
After a short, 2 hour flight we travelled just 45 minutes west into the southern highlands to reach the beautiful colonial city of Antigua. Flanked by volcanos, the city's cobbled streets and colonial houses are easily explored on foot and you could happily spend several days in this charming city. I just couldn't help taking photographs!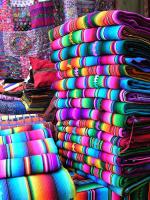 Colourful textiles for sale at the market
The next part of the trip was what I had been most looking forward to - the famous market of Chichicastenango. Two hours from Antigua, this town is dominated by its huge market selling handicrafts, flowers, food, pottery, livestock....the list goes on. Frequented by tourists and locals alike, the colours, smells and general hustle and bustle simply fascinated me. Next to the market is the 400-year-old church of Santo Tomás, where traditional Maya rituals are performed side-by-side with catholic services, all surrounded by smoke from incense and candles. The nearby cemetery is also well worth a visit to see the brightly painted tombs perched on the hillside overlooking the market.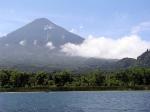 The Volcano and the Lake
Next, we ventured into the western higlands to the beautiful, volcanic Lake Atitlan. Over 17 kilometres wide and said to be the deepest lake in Central America, this scenic lake is rimmed by three volcanoes and many small towns and villages. The relaxed atmosphere, accessible Maya culture and scenic beauty of the area all combine to make a popular destination for tourists, but with so many beautiful boutique hotels and little towns to choose from, it's easy to avoid the crowds.
The best way to vist these towns where many Maya people still live in a very traditional way, is to take a boat trip accross the lake. One such place is the small, laid-back village of San Juan La Laguna, around an hour's trip from Panajachel. Friendly, local guides are on hand to explain tradtional methods of making clothing, from collecting wool through to weaving, as well as traditional medicines that have been used for many generations of Mayans and are still used today.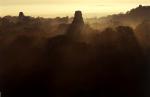 Sunrise over the pyramids of Tikal
Back to Guatemala City for an overnight, ready for an early morning short hopper flight to Flores, for another of Guatemala's visitor hotspots - the Maya ruins of Tikal.
Close to the Belizean border, these ruins are the largest in the region, with over 3,000 structures, shrines, temples, ceremonial platforms, terraces, ball courts and plazas. The site is thought to have been occupied as far back as 300 BC, and is set in lush, semi-tropical rainforest over an area of 220 square miles. It is possible to climb to the top of several of the temples and the views are well worth the effort.
Belize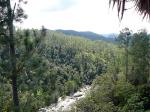 View over the Mountain Pine Ridge Reserve
The next day I headed to my third and final country, tiny English-speaking Belize. Despite its size, Belize is a diverse country with many draws for visitors and you can't help but let the laid-back, friendly, local attitude rub off on you.
After an easy border crossing I was in the Mountain Pine Ridge region - a unique, dry, tropical ecosystem on Cretaceous limestone whose pine-clad hillsides are threaded with rivers, waterfalls and some spectacular caves. With a lot of different activities, archaeological sites and lovely secluded places to stay to suit all tastes, it was probably my favourite area of the country.
After a restful night in Blancaneaux Lodge, one of Francis Ford Coppola's properties, I was up bright and early for an excursion to Barton creek cave. This fascinating, water-entrance cave was once used by the Maya as a ceremonial and burial site, with artefacts still visable to visitors. An hour-long canoe trip into the heart of the miles-long cave (still not completely explored!) was well worth the effort - although I have to admit my guide did most of the paddling and I got to sit back and enjoy it!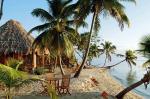 Cabins on the beach at Turtle Inn
The next day I headed to the fishing village of Placencia, on Belize's Caribbean coast. Although just a 3 hour drive from the Mountain Pine Ridge, it feels like a world away.
This friendly town, surrounded by 16 miles of sandy beaches, is perched on a narrow peninsula sandwiched between the Caribbean Sea and the Placencia Lagoon. A plethora of watersports are on offer and this, coupled with the laid-back atmosphere, make it perfect for a relaxing beach stay. Turtle Inn is the the second of Francis Ford Coppola's properties in Belize and with its large, rustic cabins on the beach, hammocks and crystal-clear water lapping at my feet, I didn't want to leave!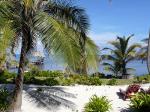 The Caribbean through the palm trees
My final destination in Belize was Ambergris Caye, one of the small islands just off Belize's Caribbean coast only half a mile from the Belize Barrier Reef - the largest in the western hemisphere and second only to Australia's Great Barrier Reef. This idyllic island with its lively town of San Pedro is awash with opportunities to sample fresh seafood, realx on the white-sand beaches and bathe in the crystal-clear water watching colourful fish swim past. A perfect way to end my trip before heading home and back to reality!