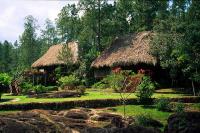 Blancaneaux Lodge
Location
Mountain Pine Ridge (The Highlands, Belize)
Description
The main building houses the restaurant, bar and sitting areas and there are pretty gardens. The Lodge is owned by Francis Ford Coppola whose influence is evident throughout.
Activities
Excursions (at extra cost) include canoeing into local caves (one of which, Barton Creek, is 3km long), trips into the Mountain Pine Ridge (waterfalls, caves and Nature trails), the Maya site of Caracol and riding.
Accommodation
The lodge has garden cabins, river view cabins and a few villas nestled into the slopes above a tumbling stream. All rooms are very tastefully designed and stylishly decorated.