Apart from political and economic stability, Venezuela really does have it all in terms of natural beauty and resources, as I was reminded when watching Steve Backshall's BBC series called Extreme Mountain Challenge.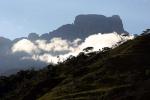 AuyŠn-tepui at dusk
A few years ago I took my family on a wonderful river trip in Venezuela's Gran Sabana. This is the area that inspired both Sir Walter Ralegh, who touched the edge of it when looking for his famed El Dorado, and Sir Arthur Conan Doyle, who never visited Latin America but was inspired to write 'The Lost World' based on tales from returning travellers. It is very easy to imagine lost species isolated for millions of years on top of one of these towering table-top mountains; indeed, having been lucky enough to have stood on the summit of both Roraima and its neighbour Kukenan, I can confirm that there are some very special plants (and even a tiny toad) totally endemic not just to the region but often to an individual mountain-top.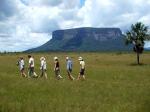 Amauray-tepui
We travelled by dugout (curiara) down the same river (the Akanan, which joins the mighty Carrao) and shot down the same rapids as Backshall, to our delight and that of my children. We sat in the cockpit of the old abandoned DC3 which has stood forlornly at the edge of stretch of savanna with the backdrop of the small (from afar) but perfectly-formed tepui known as Amauray. We bathed in waterfalls and washed our hair in the brown tannin-stained water which characterised this area: it forms part of the Guiana Shield, some of the oldest unsubmerged rocks in the world formed 1.7 billion years ago during the Precambrian period. The soil is very poor, due to the aeons of leaching, with one benefit being that there are very few mosquitos!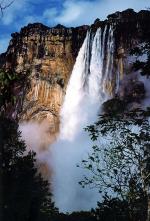 Angel Falls, highest in the world
A notable side-trip is to ascend the Churún river, a tributary of the Carrao which takes one past the towering walls of Auyán-tepui. This is the largest of the tepuis, with a total area of around 250 square miles, and is also one of the few with a route to the summit which is accessible to non-climbers (although it is still not for the faint-hearted). The absolute highlight of the trip is to see the 1km-high Angel Falls, whose water plunges seemingly from the sky.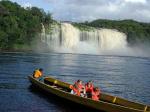 Hacha Falls, Canaima
The beautiful Canaima lagoon is a spectacular and unexpected journey's end for this adventure, which can be done in just under a week without rushing.
The next episode is on BBC2 this Sunday at 8pm.