In early 2014 I was in Chile, driving its stunning Carretera Austral, the 1,240km highway first conceived under Augusto Pinochet's presidency and now uniting remote settlements with its thin ribbon of gravel and occasional asphalt.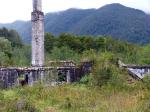 The ruined hotel
Whilst on a particularly adventurous full day excursion to the San Rafael glacier via the Exploradores valley I was shown the skeleton of an old building, now a fire-scarred wreck full of old boilers and radiators, apparently built with German help. It demonstrated graphically to what extent the San Rafael glacier has retreated because the view, originally designed to be of the glacier itself, is today just open water with a few icebergs.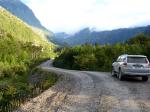 Exploradores valley
A fascinating story, which I was keen to research further when I got home. Hoping for quick results I simply typed 'san rafael glacier ruined hotel' into Google, followed by a few variants. While a simple search like this had worked well for me in the past - and I never log in to try and stop skewed results - this time all I got in the first few pages was booking engines and travel advice sites. It was only after I used a different search engine that my confidence in the power of the internet was restored and I found the story I was looking for: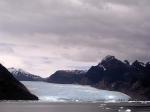 San Rafael today
In 1937 an ambitious project to cut a 2km channel through the isthmus of Ofqui, which separates the San Rafael lagoon from the Pacific, began. This would have meant that ships navigating south from Puerto Montt could avoid the infamous Golfo de Penas, which is open ocean (as opposed to protected fjords) and often rough. Funds ran out in 1943 and the final straw came when an expensive dredging machine imported from Germany fell into the lagoon, never to be seen again. Around the same time a hotel was built (possibly called the Hotel Ofqui), which subsequently burnt down.
If you research using a well-behaved search engine you will even find some old photos..
The moral of this seems to be that Google is making significant judgements about what we are looking for (maybe based on popularity, perhaps even on commercial grounds) rather than relying on a truly natural or organic search. So for example, unless you omit the word 'hotel' it will assume that you are trying to book one. Another useful tip, if you want to get round this problem, is to use a search in a different language - English seems to be the worst affected.