A couple of months ago we finally moved into our new offices, in a refurbished mill. We now have heating, rainwater harvesting, and even a meeting room (so do come and visit us whenever you want!).
In this issue:
Lizzy and Sue in Brazil
Ed drives the Southern Highway in Chile
Sue in Peru
Edward and Ali in Paraguay
Special offers
Brazil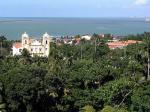 Olinda
Both Lizzy and Sue travelled to Brazil in the autumn. Lizzy visited Recife and Olinda and spent a couple of days on the coast at Porto de Galinhas. Sue journeyed further south to the mineral-rich region of Minas Gerais, a major source of wealth during the colonial period and now the country's main producer of gems, coffee and milk.
Lizzy loved the small colonial town of Olinda with its pretty painted houses, art galleries and lovely restaurants, not to mention the amazing views over to Recife and the stunning blue-green water of the Atlantic Ocean in the distance. She had time to see a few new hotels in Porto de Galinhas as well as enjoy some time on a beach buggy and some boat trips. Our favourite hotel here is still Nannai, perfect for a relaxing getaway.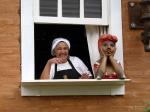 Faces in a window
Sue had a wonderful stay in Ouro Preto, a charming town with steep cobbled streets, colonial churches where you can also see the work of Brazil's famous sculptor, Aleijadinho, some interesting museums, many fine gem shops and excellent restaurants serving typical Minas Gerais cuisine. Founded in 1711, Ouro Preto was the former state capital whose wealth came from the gold found in the area. Early gold diggers even believed it to be the elusive 'El Dorado'. Our favourite hotel here is the Pousada do Mondego. Tiradentes (literally meaning 'teeth puller', named after a Brazilian revolutionary of the 18th Century whose day job was as a dentist) is a few hours away and much smaller but with the same rich colonial feel. John Parsons will ensure you are well looked after at Solar da Ponte. For those wanting to be a little more active then the Serra do Cipo national park is two hours from Belo Horizonte, with forests, waterfalls and canyons.
Chile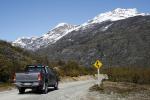 Carretera Austral
Ed Miles travelled to Chile in September to explore his favourite area in all of South America - Coihaique and the wonderful Carretera Austral highway. From Santiago, he flew to Balmaceda airport (an hour south of Coihaique) where he hired a double cabin pick-up truck and set off due south along the famous Ruta 7 into the remote wilds of Chile's very own 'last frontier'! The road (paved only in isolated parts) cuts a dizzying trail through snow-capped mountains, rugged Patagonian steppe and narrow gorges though opens out as it reaches the picturesque Lake General Carrera, five hours south of Coyhaique. In terms of accommodation, there are three main lodges around the lake to choose from: our favourite, the charming Mallin Colorado, Terra Luna for the more adventurous and Hacienda Tres Lagos for those looking for more comfort.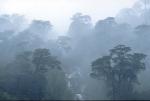 Trees in mist
This area of Chile has long been overlooked by most visitors but everything may change with Estancia Chacabuco and the creation of Patagonia National Park, brainchild of the US philanthropist Kris Tompkins.
Estancia Chacabuco covers over 200,000 acres of Patagonia steppe and was purchased in 2004 by Conservación Patagonica to protect the native Huemul deer. The Chacabuco valley has long been coveted by environmental groups as it forms a natural bridge between the National Reserves Jeinimeni (to the north) and Tamango to the south and showcases all the region's indigenous species (including guanacos, huemul deer, puma and condors). The scenery is wild, rugged and mountainous rather than the dramatic spectacle of the Torres del Paine and though still in its infancy, Patagonia Park is a wonderful off-the-beaten-track wildlife destination.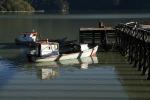 Boats in Tortel
South of Cochrane, if the charm of unpaved roads has not worn thin, the Carretera Austral deteriorates as the scenery looms larger. Just shy of Puerto Yungay, there is a new side-road that winds through towering glacier topped fjords to the remote fishing village of Tortel. Connected by over 6km of wooden walkways and literally clinging to the side of a mountain, Tortel is a charming, undiscovered community that is slowly opening its doors to tourism. Facilities are still very rustic but there are now a number of small family-run guesthouses that offer boat trips into the fjords (including to the aptly named 'Island of the Dead') and excursions to the ice-field.
As driving trips go, this is as good as it gets even though there is one small downside - you have to drive all the way back!!
Peru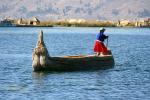 Reed boats on Lake Titicaca
Sue has just returned from a non-stop but fascinating trip to Peru, where she visited two completely different regions. The first few days were spent with local families around Lake Titicaca where she stayed a night on two of Lake Titicaca's islands: the Uros and Llachon, where the inhabitants are working on the development of rural tourism. The accommodation was simple but the food very good (plenty of potatoes!) and it was a wonderful insight into the local way of life. The area is famous for wonderful costumes and unique hats, and kayaking on Lake Titicaca from Llachon was a highlight.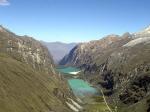 Cordillera Blanca
She then flew to Huaraz, in the Cordillera Blanca mountain range, for a fantastic three day trek from Olleros to Chavín, camping in very remote spots at over 4,000m - a very good alternative to the busy Inca Trail to Machu Picchu. The ancient pre-Inca path crosses the beautiful snow-capped scenery of the Huascarán National Park to the Chavín de Huántar archaeological centre. It is a wonderful walk that combines small communities, where one meets the local people, with wilderness and amazing scenery.
Paraguay
Train at Sapucay
Ali and I made our first visit to Paraguay, having been invited by the Minister of Tourism. We covered a lot of ground, from the ruins of the Jesuit missions of Trinidad and Jesús in the south to Mennonite communities in the Chaco. Our overall impression was of warm and friendly people, and while Paraguay will probably only appeal as a single-country destination for birders or train aficionados (the disused railway workshops at Sapucay stand out) there is certainly enough to detain a visitor for a week.
Special offers
As ever, for our latest special offers do keep an eye on our Offers page: for example, in the Galapagos the Eclipse has special rates for sailings on seven dates in January, February and March 2010. There is a saving of £1,000 per person for a Stateroom and over £1,100 per person for a Deluxe cabin (prices based on 2 people sharing). Check with us for the latest availability and a tailor-made itinerary based around these departures.
With best wishes for Christmas and the new decade from Edward and all at Last Frontiers
Edward Paine
Last Frontiers Limited
Email: info@lastfrontiers.com
Web: www.lastfrontiers.com
Tel: 01296-653000
"I thank Last Frontiers for all the time and effort into making our trip so fantastic. You were invaluable in making our trip such a success. The best compliment I can give is that I would not hesitate in using your services again or recommending you to family and friends."