Welcome to the latest news from Last Frontiers, with our most recent travelling adventures. Our two newest recruits, Oli and Claire (pictures and bio on our Team page), have got their first few months with us off to a flying start with an amazing trip each to South America. In this issue:
♦ Jungle and gauchos - Oli in north-east Argentina ♦ Waterfalls and moai - Claire in Easter Island ♦ Trains and whales - Jill in Mexico ♦ New Mexico book - and a chance to win a copy ♦ Last Frontiers events - Cheshire in June
Jungle and gauchos - Oli in north-east Argentina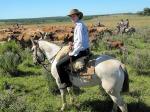 Oli the gaucho
Earlier this month I travelled to the Argentine province of Misiones and the Iberá wetlands. The focus of the trip was to gain an insight into what the region has to offer (other than the mighty Iguassu Falls). Working my way south from the northern-most border, hugging the banks of the dramatic Paraná river, I visited various jungle lodges and estancias and experienced first hand the diversity of nature this beautiful region has to offer. I journeyed further south to the Iberá wetlands for cattle wrangling as well as bird and wildlife-spotting, finishing in Buenos Aires to soak in the culture and history which is ever-present in the capital. See my detailed Argentina report here: www.lastfrontiers.com/articles/view/undiscovered-argentina-oli-in-misiones-and-ibera
Waterfalls and Moai - Claire in Lima, Iguassu and Easter Island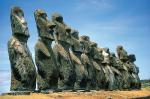 Moais at Ahu Tongariki
My first Last Frontiers trip saw me catching an impressive eight flights in ten days, taking me to Lima (three times!), Foz do Iguaçu, Brazil and finally enigmatic Easter Island. The journey left me with a newfound respect for the Peruvian capital, which is worth a visit for the culinary delights alone; a new perspective on the impressive Iguassu falls, after enjoying a waterfall shower on the Macuco Safari Tour, and even more questions than I went with about the fascinating Rapa Nui and its famous moai. To read all about it see my Easter Island trip report here: www.lastfrontiers.com/articles/view/waterfalls-and-moai-claire-in-lima-iguassu-and--easter-island
Jill explores north-west Mexico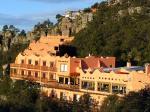 The Mirador hotel in the Copper Canyon
I was thrilled to be able to explore remote parts of north-west Mexico recently, travelling first to the tip of the Baja Peninsula where the hotels are incredibly stylish and the desert landscape strewn with giant cactus trees. I then flew by small plane to the mainland, taking the historic Pacific-Chihuahua train deep into the Copper Canyon. I was very inspired by the stunning vistas that stretched for hundreds of miles across the mountains and by the remote lives of the Tarahumara Indians who live hidden deep in the canyons. Read my trip report for more about my adventures: www.lastfrontiers.com/articles/view/jill-in-the-copper-canyon
Mexico Competition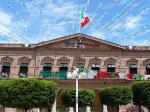 Win a signed copy of the highly acclaimed book 'The Mango Orchard' by Robin Bayley. Read our travel books review to inspire you to read this fascinating account of Robin's journey round Latin America.
If you answer the following question correctly you could be the lucky winner of the latest paperback edition of the book: Which family forebear drew Robin to Mexico? Answers on an email to info@lastfrontiers.com
Special Offers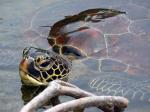 A turtle emerges from the ocean
If you are looking to visit the Galapagos Islands then you might want to bear in mind that Eric, Letty and Flamingo have a 5% discount for new bookings on selected departures for 2011 and 2012 so do contact us for more details. Beluga also has a special offer available on selected departures through the summer which include the Galapagos airfare. Do ask us for more details.
We are also starting to receive some special offers on some Antarctic boats for 2011/12 season. We always update our website with special offers so do keep an eye on them if you are thinking of future travels.
Cheshire event
Please put a date in your diaries for later in the summer when we will be joining our Inspirational Globe (www.inspirationalglobe.com) partners for a Travel Show at Shrigley Hall, Cheshire on Sunday 26 June. Each travel company will be giving talks throughout the day, starting at 11am - we will let you know further details in due course. Entry is £10 per person (includes wine and nibbles), but we have a small supply of free tickets which are available to our past clients on a first-come-first-served basis - just drop us an email if you would like one.
With best wishes from Edward and all at Last Frontiers (and enjoy the Royal wedding)
Edward Paine
Last Frontiers Limited
Email: info@lastfrontiers.com
Web: www.lastfrontiers.com
Tel: 01296-653000
"What a fantastic holiday. Amazing from start to finish. We both agreed it was the most stress free holiday we have ever been on and that is down to you. We cannot thank you enough and I am already on the website looking for the next trip. Any suggestions? It will have to be good to beat this one."