Always dreamed of a holiday to Ecuador and the Galapagos Islands, the unique archipelago with its remarkable volcanic islands and rich and varied wildlife? Now could be your opportunity: Ecuador was the first country in Latin America to close its borders in mid March and the Galapagos opened up in August.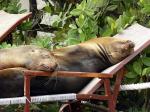 Sea lions hanging out
A visit to the pristine islands is unlikely to be a disappointment, it's a true experience of nature at work and they were hugely influential to Charles Darwin's theory of evolution. With only a limited number of boats operating and a low number of visitors now is the time to visit. Visitors who are lucky enough to have been there post-lock down have commented that it is like seeing the islands as they were thirty year ago, with the wildlife showing even less fear than usual.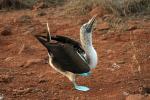 Blue-footed booby
The number of Covid infections in the Galapagos has been minimal and Ecuador has followed a very strict 'traffic light' reopening system which has been very successful. International visitors must arrive into Ecuador with a negative PCR test (taken up to 10 days prior to arrival) and have a negative PCR test (taken up to 96 hours prior to arrival) for travelling to the Galapagos. Health insurance must be in place and visitors must follow all local protocols.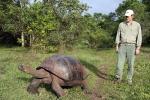 Giant tortoise
At Last Frontiers we work with a small selection of boats that we know personally and with whom we have built up a close relationship. They all employ excellent, well qualified naturalist guides, meet all safety requirements and have protocols in place. All groups are accompanied by a licensed guide who will enhance your understanding of the islands' fragile environment and rich natural history.
See our yacht listing here: www.lastfrontiers.com/galapagos/regions/cruises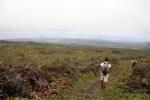 Sierra Negra volcano
Land based visits to the Galapagos are available too, either as an alternative to a cruise or as an add-on. They are great for those who want a little more freedom to explore independently, and experience the islands like the natives. There are some lovely walks and excursions taking in the stunning wildlife, beaches and volcanoes.
For ideas see www.lastfrontiers.com/itineraries/galapagos-by-land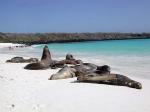 Sea lions
As things start to open up there are a number of very good promotional rates, and even space over Christmas and the New Year period (usually booked up years in advance). Flexible booking conditions are also in place for those who wish to travel in the next few months.
See www.lastfrontiers.com/articles/view/flexible-booking-policy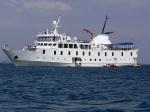 La Pinta
For last-minute bookings you should definitely consider Metropolitan Touring's La Pinta. Using normal rates a nine day trip starting from the UK would cost from £6,342 per person based on two people sharing. This includes flights (with KLM), a night in Quito at the beautiful Casa Gangotena, national park fees, a four-night cruise aboard La Pinta (full board) and two nights at the Finch Bay hotel on Santa Cruz island. Those willing to travel this year (and able to escape local travel bans) can save up to £2,000 per person.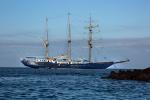 Mary-Anne
Want to consider Christmas 2020 in the Galapagos with your family or a group of friends? Mary Anne (www.lastfrontiers.com/hotels/galapagos/cruises/maryanne), an elegant first class motor yacht who carries a maximum of 16 passengers, is currently available to charter over Christmas. The 7 night cruise runs from 19-26 December 2020 and has a promotional price of £52,480 (a saving of almost £12,000).
She also has individual cabins available on her New Year departure running from 26 December 2020 - 02 January 2021 at the price of £3,950 per person (a saving of £660 per person).
The Galapagos National Park fee and transit control card (totalling US$120 per person), flights to the Galapagos from the mainland (around £500 per person) and international flights (from £875 per person), plus any accommodation on the mainland also need to be paid for.
Not looking to travel over Christmas or New Year, but later this year or early next year? Most boat operators and hotels are maintaining 2020 rates for travel in 2021 and there are a number of excellent last minute promotional rates for travelling in 2020.
The Foreign Office (FCDO) blanket advisory against non-essential travel affects Ecuador (and most of Latin America). We are working hard to get it lifted but for last-minute travel it is likely that travellers will need to ignore it. There are a few travel insurance policies that will cover you for travel despite the advice, do ask us for details.