What a change from our previous newsletter, written in the depths of winter and looking forward expectantly to another year of travel. Now, here we are bathed in warm sunshine, but outside the window the world is eerily still, as we all wonder how the spread of the COVID-19 coronavirus will be affected by the various lockdown policies in place around the world.
The last few weeks at Last Frontiers, as with all travel companies, have been a total contrast. Three weeks ago we were dealing with a flurry of country closures in Latin America as different governments reacted in different ways, from the gradual squeeze (Costa Rica, Chile) to the sudden and complete freeze (Peru, where all flights were halted). We did our best to find the fast-diminishing number of options to help get our clients home, and I would like to thank all of those whose holidays were cut short for their patience, support and good humour.
Our last client home landed a week ago, on a UK government rescue flight from Peru, having had to spend an un-scheduled 12 extra days in Cusco (luckily we arranged for her to stay with one of our travel colleagues at their home, rather than being confined to a hotel room like many others).
The last two weeks have been spent working with clients who have imminent travel plans, made impossible not least by the blanket Foreign Office advice against non-essential travel introduced on 17 March, initially for 30 days but now extended. In addition to our normal tailor-made bookings, we also had an Oxbridge alumni group travelling with trip scholar Professor Nick Davies to the mountains and jungles of Peru.
We pay most of our suppliers at least 6 weeks before travel, and the chances of getting any refunds in the short term were always going to be challenging, with even major airlines forced to ignore EU rules and delay or offer future travel credits to ensure their survival. We therefore asked all clients to consider postponement over cancellation, and are very grateful to all who took that option, without which we would not have been able to provide prompt refunds to those who decided to cancel.
Now we, together with the whole travel industry, enter the quiet period. Lizzy, Alison and Nikki, all of whom have small children, were furloughed when schools were closed. Sue and I are in the office (sitting suitably distant from each other!), and Hannah joins us one day a week and otherwise works from home. The three of us are working on postponements and 2021 bookings, and will soon have time for all those little tasks that we never seen to find time for (in my case, a website article on big cats in Latin America based on a talk I gave last year which was well-received).
Latin America in the news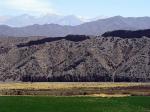 Cachi, near Cafayate
We have all been enjoying the Race Across the World series on BBC2 (the next episode is at 8pm on Sunday 12 April, and the previous episode is repeated tonight at 7pm). The contestants are currently in Cafayate (Argentina, just south of Salta) and their final destination is Ushuaia. Who will win..
Keeping yourselves entertained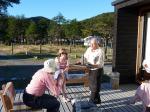 A pisco sour in Chile
I know all of us have been seeking inspiration for things to keep us occupied at home and the internet is full of amazingly creative ideas. We thought we would try and inspire you with a few Latin America-related ideas, and Hannah is going to be using our Instagram (@lastfrontiers) for this. We're starting the ball rolling with a little video demonstration on how to prepare a pisco sour - with thanks to my son Nicholas and his girlfriend Megan for their video shooting and editing skills! My contribution was the Angostura drops - some neater than others.
Our other ideas include recipes, (audio) book recommendations, and learning a new game or dance. Do let me know if we've missed anything!
With best Easter wishes from all at Last Frontiers
Ed
--
Edward Paine
Last Frontiers Limited
Tel: 01296-653000 | info@lastfrontiers.com | www.lastfrontiers.com
The Mill | Quainton Road | Waddesdon | Buckinghamshire | HP18 0LP
"I would like to say how much we have appreciated your expertise and extremely helpful advice in planning this trip. We would not dream of going to any other agent for a South America booking and I hope that we will be able to re-book next year. We will also recommend you to anyone else we know who is planning a trip to this part of the world."
"I just want to say a huge THANK YOU for all your help getting us home. It must have been a nightmare for you making all the arrangements for us with the ever changing situation. Knowing that you were sorting things for us was a huge relief."
"We've landed. On our way back now and never been so glad to be back on home turf. It all went amazingly smoothly with time for a margarita in São Paulo and a decent sleep on the flight in. I cannot tell you how grateful we are that you found those flights. I hope your other clients are similarly fortunate. We have two young French friends stranded, one in Chiloe, the other in Argentina.. It's all pretty surreal but we will find a way to make this Strange New World work.."