Welcome to our spring round-up of Latin America news and staff travel.
In this issue: Office news ♦ Rio Olympics 2016 ♦ Last Frontiers' Top Three: Top destinations for 2015 ♦ Fran in Peru ♦ Sue in north-west Argentina ♦ Claire in Colombia
Office News
In January we welcomed Lizzy back from maternity leave. Sadly we said goodbye to two members of staff: Rebecca and Oli (who is now living happily in Colombia). We have two welcome additions to the office: Rachel, who joins us from Wexas and has travelled widely in Latin America, and Sue's new border puppy Mij.
Rio Olympics 2016 - important deadline
You might think the 2016 Olympics are still a long way away, but if you would like tickets you may need to act fast. 4 May 2015 (yes, 2015) is the deadline for applying for tickets via the official ticket agent for the UK, Cosport (www.cosport.com) without subjecting yourselves to a first come first served window (which starts on 19 May).
Last Frontiers' Top Three: Our top destinations for 2015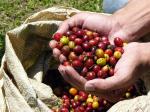 Colombian coffee
Our three most requested destinations for 2015 are:
Colombia
Ever-growing in popularity (enough so to make Oli want to return!) we are organising more and more holidays to this fantastic country, with its ancient sites, diverse scenery, friendly people and beautiful beaches. Claire was lucky enough to visit recently so do take a look at her trip report (below) or our Classic Colombia itinerary for ideas and inspiration.
"Colombia is so beautiful, and the people are so kind. Thank you very much!" - JD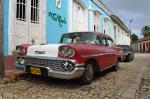 Vintage car in Trinidad
Cuba
Now is without doubt the time to go, as the trade embargo lifts and before Air China start direct flights later this year. Both we and our clients love some of the delightful casas particulares (private homes) where guests can stay with locals and eat at local paladars. Following a route like our example Cuba itinerary will give visitors a feel for the real, vibrant, Cuba.
"I was mesmerised by the destination and its people!" - ES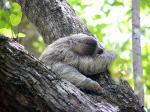 Three-toed sloth
Costa Rica
A long-time favourite, particularly for nature lovers. There are some lovely new lodges that we are working with (as you will have seen if you read Jonny's Costa Rica trip report from our last newsletter). Costa Rica is such a wonderful wildlife destination and also great for those wanting more active experiences such as rafting, zip lining, or surfing. We also highly recommend it for families, even with young children, as it is so easy to get around and there are activities for all.
"This is a beautiful country, full of wonder and fabulous sights. If you want some adventure, a variety of experiences, fabulous wildlife and to meet very friendly people our advice is: learn Spanish, advanced solar and stellar navigation, a bit of biology, and come to Costa Rica!" - DD
Fran in Peru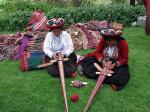 Women weaving
In November, Fran went on her second Last Frontiers trip - this time to Peru. She explored the capital, Lima; the ancient Inca city of Cusco and the beautiful Sacred Valley. All in all, she was bowled over by the sites, tastes and culture of this fascinating country and came back full of enthusiasm for it! Read Fran's Peru trip report here.
Sue in north-west Argentina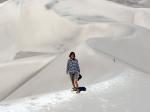 Sue at Duna Blanca
Having the excuse of a travel show in Salta, Sue made the most of her time in north-west Argentina, with its dramatic scenery, wonderful, friendly people and excellent wine. Highlights included staying with Carlos and his family at Finca Santa Anita, an amazing journey to the remote highland village of El Peñon in the Puna, and crossing the vast Salar de Arizaro, one of the biggest salt flats in the world! Read Sue's Argentina trip report here.
Claire in Colombia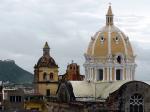 Cartagena
With Colombia proving more and more popular as a destination, Claire set out last October on a ten-day recce to see what all the hype was about. She was certainly not disappointed - highlights of her trip included the unexpected charm and fabulous museums of Bogotá, the stunning scenery of the Cocora Valley in the coffee region, the wonderful trails and gorgeous beaches in Tayrona National Park and just about everything in Cartagena! Read Claire's Colombia trip report here.
Next time we'll have reports from Lizzy, just back from the southern fjords of Argentina where she reached Cape Horn, and Jonny, who did a spectacular new Lares hike (see hikes in Peru) with Mountain Lodges of Peru.
With best wishes from Edward and all at Last Frontiers
Edward Paine
Last Frontiers Limited
Tel: 01296-653000 | info@lastfrontiers.com | www.lastfrontiers.com
The Mill | Quainton Road | Waddesdon | Buckinghamshire | HP18 0LP
"There was SO much in our trip that was wonderful that I can't pick anything out. How do you choose between a visit to a women's weaving project, a tour around the greatest Mayan ruins, and seeing a snake devouring a frog, for example!" - CC