When the opportunity arose to visit two little-visited countries in Central America, El Salvador and Nicaragua, I jumped at it and returned full of enthusiasm and positive feedback. El Salvador is tiny (about the size of Wales) but with plenty of variety - ancient archaeological ruins, mountains, rainforest, volcanoes, colonial towns and unspoiled beaches. Having emerged from a long and destructive civil war and then a series of natural disasters the people were positive, hard-working and friendly. Nicaragua more than lived up to my expectations: although still fairly unexplored it has some good roads, lovely hotels, welcoming people and plenty to see and do - wonderful scenery, colonial cities, adventure and dramatic Pacific coast.
El Salvador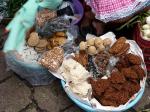 Local specialities
After an initial night in San Salvador we left the city behind and drove east to explore the ruta de las flores (flower route). This 35km stretch of road winds through coffee plantations, agricultural land and quaint towns which all offer something distinct. Many wildflowers border the road and it is known as one of El Salvador's most picturesque and culturally interesting areas. Nahuizalco is known for its wicker and wood furniture, Ataco for its woodcarvings, paintings, ceramics, weaving and murals, and Juayúa has a well-regarded food festival with dozens of vendors and locally-prepared food.
Cobbled road up to El Imposible
I visited El Imposible National Park in the rain and the steep road up is not for the faint hearted, but it still offered some wonderful views! The national park is known for its excellent hiking in the rainforest with waterfalls, impressive viewpoints and an abundance of wildlife. This is one of the last tropical rainforests in El Salvador, ranging in elevation from 300 to 1,450m, in 3,794 hectares (about 9,400 acres). It also has the greatest biodiversity in the country with over 400 species of trees, more than 500 species of butterfly, 279 species of birds and more than 30 species of mammals.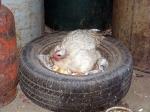 Chicken in La Mora house
A visit to one or more of the country's archaeological sites is definitely recommended, even though they are fairly low key in comparison to those found in other countries in Latin America. I visited Joya de Cerén, Tazumal and San Andrés, all quite different and fascinating. Joya de Cerén is considered the most impressive archaeological remains of the ancient Maya civilization in El Salvador and was declared a UNESCO World Heritage site in 1993. It is a pre-Columbian Maya farming village, preserved under layers of volcanic ash due to the eruption of the Laguna Caldera volcano around 600AD and is often referred to as the 'Pompeii of the Americas'. Tazumal is a pre-Columbian Maya site near Chalchuapa, in the west of the country, built around 500AD and occupied until the arrival of the Spanish. San Andrés was a ceremonial centre built between 900 and 600BC, and pyramids are evidence of its importance as a regional centre which, in its day, must have had around 200 structures.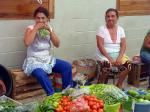 Suchitoto market
Suchitoto, a colonial town northeast of San Salvador, was a highlight for me and reminded me of Antigua in Guatemala - cobblestone streets, art galleries, a 300 seat theatre, a lovely church, food market and views of nearby mountains and Lake Suchitlán, home to thousands of migratory birds. My visit to the nearby La Mora community was fascinating and I was given a warm welcome in a family home where I met an ex-guerrilla who talked about how life was during the civil war of the 1980's and explained how the community (now about 74 families) are working together developing ecotourism offering riding, hiking and community activities.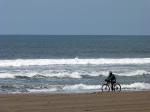 Pacific beach, Barra de Santiago
The country also boasts some beautiful unspoiled beaches and I visited Barra de Santiago, a protected reserve and tiny fishing village with sandy beaches and a backdrop of tall volcanoes in the south western part of the country. There are bird-filled mangrove channels, waves for surfing and sea turtles. Between July and December it is possible to witness females laying their eggs or hatchlings on their maiden voyage to sea (if you are lucky!).
Nicaragua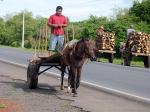 Local transport near León
Having seen and experienced a huge amount during my stay in El Salvador it was time to fly to Nicaragua for the second half of my adventure.
The first couple of days were spent in León, about 100km (two hours) from Managua along a new highway. I arrived on a beautiful clear day and the views of Momotombo volcano and Lake Managua on the way were wonderful. León is a colonial city with cobbled streets and many historic and cultural highlights, several museums and a huge number of churches. León Viejo, 32km from León, was the original site of the city and abandoned due to volcanic activity in the 17th century, it is now a UNESCO World Heritage Site. There are also plenty of possible activities near León but one thing I particularly enjoyed was the excursion to Juan Venado where I did a motorised canoe excursion through mangrove-lined channels with excellent birdlife, crocodiles, crabs, spiders and more. There were local people fishing and very few tourists which made it extra special.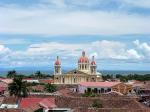 Lake Nicaragua and Granada Cathedral
Granada is another colonial city with some beautiful old buildings, a busy central plaza, an amazing cemetery (it reminded me of the Recoleta cemetery in Buenos Aires) and good restaurants. I did a city tour by horse drawn carriage which was a wonderful way to see and experience the city - the old hospital is currently derelict but is going to be renovated into the first public university, the railway station has been renovated and is being used for education too, there are numerous churches to visit and the view from the top of the tower in La Merced is worth the climb. There are 354 islands formed by volcanic eruptions around Granada and I did an early morning boat excursion around some of them which was fascinating, you can also stay on an island - a unique experience. Masaya and Mombacho volcanoes overlook the city, there is an excellent museum near the entrance to the Masaya national park and you can drive up to the car park from where you get an amazing view of the active Santiago crater. The vegetation on the Mombacho volcano is very dense and tropical, there is an abundance of wildlife (lots of monkeys) and a night hike is quite an experience!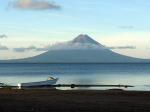 Concepción volcano from Ometepe
Leaving behind the colonial cities I took the ferry to Ometepe Island, a highlight of my trip, with wonderful friendly people and a relaxed way of life. Ometepe was formed by two volcanoes, Madera and Concepción, rising up in the waters of Lake Nicaragua and the name means 'two hills' in the native náhuatl language. The nature, friendly people, beautiful landscapes, volcanoes, rich archaeological background, beaches and its natural reserves and forests (with a high biodiversity) definitely make it worth a visit if you enjoy the outdoor way of life. I stayed in a restored colonial hacienda on the lake shore, reached through a banana plantation. The milk was delivered by ox and cart each morning, there were some lovely walks, great views to the volcanoes, and the gardens attracted an abundance of birdlife.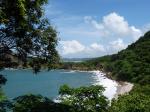 View from tree top villa over the Pacific
Nicaragua also has some beautiful beaches on its Pacific coast and although the roads are being constantly upgraded getting to the more remote properties does involve driving along some unpaved roads and through local villages. Whether you are looking for a surfing beach or a protected bay, a luxury eco lodge, a villa built in a tree top or a rustic casita on the beach, there is somewhere for everyone.
All in all I had a wonderful trip and returned full of enthusiasm. I have no hesitation in recommending any of the properties or regions visited.