The debate over the sovereignty of the Falkland Islands (Islas Malvinas) has once again become a news item.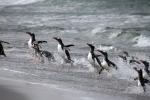 Gentoo penguins, the original inhabitants
Politicians, with their usually short term outlook, have often used populist issues to distract their public from other less easily-solved economic problems. A whiff of oil, or any other potential natural resource, will always lubricate the rhetoric. Since the history of the islands, like many far-flung outposts, is complicated and rather murky, it is quite possible to convincingly argue for either side.
A permanent agreement on the Falklands/Malvinas issue can only come about through diplomatic endeavours, and in practice the onus is on Argentina to take this forward. British politicians, who have already committed publicly to self-determination of the islanders, are very unlikely to change their policy within the lifetime of a parliament.
If Argentina is to be successful, its challenge is to persuade the islanders that they are better off as Argentine citizens (a policy that had started quite successfully in the 1960's and 70's). One can imagine that given time and a consistent foreign policy this would be quite achievable - via trade, education and flight connections for a start.
So let's leave this to the diplomats, who should at least know that the citizens of Argentina are Argentines and not, please, Argentinians.