This handy recipe book is by Ben Box, editor of the South America Handbook, and distills 40 years' of travel into its pages via recipes, stories and historical background. Ben has chosen a variety of recipes covering most countries, from Argentine alfajores to Uruguayan milanesas. It was published in 2022 by Bradt Publications.
Here are 4 recipes from the book, all of which have been tried and tested by Ben and Sarah in their Suffolk kitchen!
Ben talked about his book on one of our online webinars, which is available to watch again, see www.lastfrontiers.com/articles/view/webinars
Papas a la Huancaína (Peru)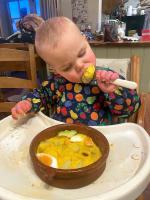 Our home version!
Potatoes Huancayo-style - in a spicy, cheesy, yellow sauce. Serves 2.
Ingredients
350g/12oz potatoes, preferably small, round and yellow, peeled
1 dried ají amarillo (yellow chili pepper), chopped
1 tablespoon ají amarillo paste
4 tablespoons double cream or evaporated milk
50g/2oz pecorino cheese, grated
1 tablespoon olive oil
Garnish: lettuce leaves (any large-leafed variety); hard-boiled eggs, quartered or sliced; black olives, whole, halved or cut finely
Method
Boil the potatoes in lightly-salted water until cooked
Whisk up the chilli, paste, cream, cheese and olive oil in a liquidiser
Pour the sauce into a saucepan and heat to boiling point, stirring all the time
You can serve the potatoes hot, with the sauce poured over the top, but traditionally you allow everything to cool, then put one lettuce leaf on a plate, place a helping of potatoes on the leaf, pour sauce over them, then garnish with a quarter of hard-boiled egg and slivers of black olive
Pescado Encocado (Ecuador)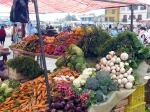 Saquisilí market
Fish in coconut sauce - meaty fish combined with the soft sweetness of coconut and the tartness of citrus. Serves 2.
Ingredients
300g/11oz fish filet, in chunks (cod, haddock, sea bass, shrimp, whatever is available)
1 lime, juice only
1 orange, juice only
2 cloves garlic, crushed
½ teaspoon cumin
½ teaspoon achiote/annatto powder or paprika
½ teaspoon coriander
1 teaspoon salt
1 tablespoon coconut oil
1 medium white onion, diced
1 red or yellow sweet pepper, diced
2 tomatoes, peeled and chopped
200ml/7 fl oz unsweetened coconut milk
1 tablespoon coriander leaf, chopped
Fresh, shredded coconut (optional)
Method
Marinate the fish/shrimp for at least an hour in a mix of the lime juice, orange juice, garlic, cumin, achiote/annatto, coriander and ½ teaspoon salt
Heat the coconut oil and cook the onion, sweet pepper, tomatoes and another ½ teaspoon salt for about 5 minutes on medium heat
Add the coconut milk and cook for a further 10 minutes on a medium heat, stirring frequently
Add the fish/shrimp and the marinade. Cover and simmer for 15 minutes, or until cooked through
Serve hot, and garnish with coriander leaf and (if using) fresh coconut
Chipa Almidón (Paraguay)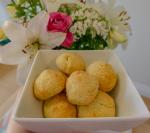 Okay, these are from Brazil
Cheesy breads - classic cassava flour bread (similar to Brazilian pão de queijo). Makes about 16.
Ingredients
110g/4oz butter
4 small to medium eggs
200g/7oz grated cheese
1 teaspoon aniseed
½ teaspoon salt
100ml/3½ fl oz milk (any type)
450g/1lb cassava flour, sieved
Method
If possible, make sure that all the ingredients are the same temperature
Soften the butter a little and lightly beat the eggs. Put both in the bowl of a stand mixer and mix together for a few minutes (there will be small lumps of butter in the egg mixture). If you do not have a stand mixer, all mixing can be done by hand
Add the cheese and the aniseed and continue to mix until all the ingredients are combined (but still not a smooth mixture)
Dissolve the salt in the milk. Add the milk to the bowl, then introduce the cassava flour a little at a time while mixing. Keep going until the dough is homogenous
Divide the dough into four equal parts, then divide of those into four more parts to make 16 pieces of dough, which can be shaped roughly into balls. Put them on a tray, cover and put into the refrigerator for 20 minutes
Take the dough balls out of the fridge and, with your hands, roll each one into a cylinder about 15cm/6inches long and 1.5cm/½inch in diameter. Either leave as sticks, or bring the ends of the stick round in a circle and press together to make a ring. This process will take about 15 minutes, so 5 minutes after starting, preheat your oven to 220C/425F/gas mark 7
Place the sticks/rings on to an ovenproof tray lined with baking parchment. Leave a bit of space between each one
Bake for 20 minutes until the outside is golden. The inside should be gooey
Leave to cool for a few minutes on a rack and eat as soon as you can. They are best straight out of the oven, but you can reheat them in a microwave or in a toaster
Alfajores de Maicena (Argentina)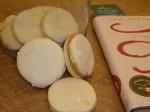 Lizzy's alfajores
A classic sugar rush - sweet caramel filling sandwiched between crumbly biscuits. Makes about 24.
Ingredients
1 can sweetened condensed milk (usually 397g/14 fl oz)
100g/4oz unsalted butter
100g/4oz icing sugar
1 egg yolk
2 whole eggs
Zest of 1 lemon
½ teaspoon vanilla essence
100g/4oz all-purpose/plain flour
200g/7oz cornflour
½ teaspoon baking powder
½ teaspoon salt
50g/2oz desiccated coconut
Method
Make the dulce de leche filling: Preheat the oven to 220C/425F/gas mark 7; scrape the condensed milk into a 23cm/9in-deep pie dish and cover tightly with foil; place the covered pie dish in a roasting tin and fill the tin with hot water to halfway up the side of the pie dish; bake for 90 minutes, topping up with water to the original level halfway through; remove from the oven and allow to cool. It will be firm and brown, a delicious caramel
Preheat the oven to 150C/300F/gas mark 2
Beat together the butter and icing sugar until creamy. Add the egg yolk and beat until incorporated
Add one of the eggs and beat again, then the second egg. When the mixture is smooth, add the lemon zest and vanilla
Sift together the two flours, baking powder and salt, then add them gradually, a spoonful at a time, to the mixture, stirring them in well until all is incorporated and you have a soft dough. Wrap to cover the dough and chill for 20 minutes
On a well-floured work surface, roll out the dough to about 0.5cm/¼ inch thick. With a 5cm/2inch cookie cutter, cut out circles and transfer to two baking trays covered in greaseproof/baking paper. Gather the remaining scraps of dough into a ball and roll out again, cutting into rounds as before until it is all used up. Try and make an even number.
Bake for 7 to 8 minutes until firm to the touch, but not coloured. Note: avoid baking in a fan oven as this will dry out the biscuits. They should remain pale. Remove the biscuits from rhe trays and cool on wire racks
When cool, carefully spread dulce de leche on the underside of half of the biscuits and place another biscuit on top of each one to make a sandwich. The layer of filling should be as thick as the biscuits
Roll the edge of each biscuit sandwich in the coconut so that it sticks to the sides
The book!