For the last year we have been running a programme of online talks on a range of themes related to Latin America. Subjects have ranged from wildlife to biography, with topics such as the search for El Dorado, a brief history of "liberators" such as Simón Bolívar and Bernardo O'Higgins, scientific explorations, and even Big Cats of Latin America.
If you would like an invitation to listen to future talks (which takes place via Zoom), please either join our mailing list or just let us know via email (webinars@lastfrontiers.com). There is no charge.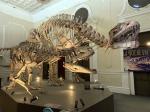 San Juan Museum
The next webinar is on 21 September, at 4pm UK time (BST). The Natural History Museum's Professor Paul Barrett will discuss the latest evidence for the origins of the dinosaurs in what is now South America, and will explain how these Jurassic and Cretaceous giants became some of the most successful land-animals of all time.
Previous talks that were recorded are available to watch again on our YouTube channel here: