Welcome to our latest Last Frontiers newsletter, with our customary round-up of staff travels and news from Latin America.
In this issue: Office/baby news ♦ Last Frontiers' Top Three: Walks ♦ Claire in Mexico ♦ Jonny in Ecuador ♦ Sue in the Arctic ♦ Travel events - dates for your diary
Office news
At the end of this month Rebecca will start her (second) maternity leave - we wish Becks, James, and 2 year old Henry well and the best of luck for the new arrival. Ali popped in to see us just before Christmas with young Ruaridh, just 7 months. Her partner Al has been offered a job in Canada and the family are already setting themselves up in Toronto - their ice skating skills will soon put us to shame no doubt. We wish them all the best.
Our Top Three: Walks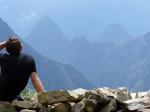 Llactapata, Peru
With the Christmas excesses firmly in the past, we thought a few of our favourite walks would be a suitable tonic!
In southern Patagonia, the small village of El Chaltén is an ideal base for several day walks in the shadow of the stunning FitzRoy peaks. Best visited from November to May.
No walk round-up would be complete without mentioning Peru, where either the Mountain Lodges of Peru Salkantay route to Machu Picchu, or one of many alternative Inca trails in the region, has to be on anyone's list. Best April to November.
Most people think of the Galapagos as a mainly marine destination, but there is one stunning hike: around the crater of Sierra Negra - one of Isabela island's five volcanos - and down to a small fumarole. Year round. Some yacht itineraries incorporate this walk, otherwise you can extend a cruise with a few nights on the island of Isabela, which now offers some lovely, comfortable accommodation options.
Claire in Mexico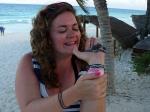 Claire with baby turtle
Last September Claire headed off to Mexico for, potentially, her last chance to explore the Mundo Maya before the predicted 21 December apocalypse at the end of their long count calendar. 'I visited Chiapas, Campeche, and the Yucatán Peninsula. On my journey through the south easterly states of Mexico I explored colonial cities, marvelled at ancient ones and relaxed on pristine beaches. Highlights included swimming with whale sharks, releasing baby turtles into the wild, mixing with locals and sampling the local cuisine...
Suffice to say that both Mexico and Claire are thankfully still with us. You can read her full Mexico report here.
Jonny in Ecuador and the Galapagos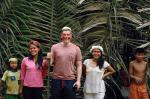 Jonny and the Huaorani
In October Jonny visited one of South America's smallest countries, Ecuador, and the Galapagos. 'During my two week trip I visited an animal market and brushed up on my riding skills in the Andes, perfected the art of using a blowgun in the Amazon and climbed an active volcano in the Galapagos. It was an adventure-packed trip, and at one point I found myself being covered in face paint and being married off to a local girl from the Amazon!' Read about Jonny's Ecuador and Galapagos experiences here.
Sue in the Arctic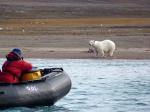 Polar bear, Coningham Bay
One Ocean offers excellent cruises to Antarctica and we are now able to recommend their Arctic cruises too, following Sue's Canadian Arctic trip aboard Akademik Ioffe. 'After my amazing adventure to Antarctica in 2003 - a dream come true - a visit to the Arctic was high on my wish list. The polar regions are addictive if you are a fan of wonderful scenery, wilderness and wildlife, so when the opportunity arose to sail through the Northwest Passage I grabbed it with both hands. We had close-up sightings of polar bears (they really are huge!), enjoyed the abundant bird life, amazing sunrises and sunsets, and huge glaciers. To top it all the ship, crew, food and activities were all first class and my two weeks on board went far too quickly!'. Read more on Sue in the Arctic.
and finally..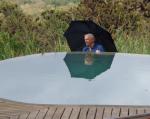 Attenborough and finch
Those of you with Sky and (ideally) a 3D television are no doubt enjoying Sir David Attenborough's latest Galapagos series which started on New Year's day. It was filmed over two years, and the photograph at left shows the great man sheltering from the sun between takes, while admiring a finch on the edge of the swimming pool at the Galapagos Safari Camp.
Travel events - dates for your diary
I'll email in a few days with an update on our 6 February London event (if you do not live close to London and want to know more please email us) and as I mentioned in the last newsletter on Sunday 9 June we will be at Cavendish Hall, on the Essex/Suffolk border, another beautiful Landmark property. More news on that in a couple of months.
With best wishes from Edward and all at Last Frontiers
Edward Paine
Last Frontiers Limited
Tel: 01296-653000 | info@lastfrontiers.com | www.lastfrontiers.com
The Mill | Quainton Road | Waddesdon | Buckinghamshire | HP18 0LP
Facebook | Twitter | Google+
"We had a really fantastic time. We saw jaguar, puma, eight types of monkey, two types of caiman, peccary, deer, short-eared dog, southern tamandua, forty species of bird and countless frogs, insects and butterflies. Awe-inspiring ruins, magical scenery, fascinating culture and such wonderfully friendly people."