Welcome to our first newsletter of the new decade! In this issue:
Looking back 10 years

Trip reports: Lizzy in Chile, Emily in the Galapagos Islands, Sue riding in the Pantanal
Last Frontiers in the press

Upcoming events: Destinations Travel Show at London Olympia
Where we were 10 years ago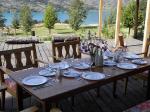 Al fresco dining at Mallin Colorado (Chile)
Looking back to 2010, we had just moved into our new offices in Waddesdon, Jill (who now works happily for Belmond) had just returned from Colombia, while Sue had been in Peru (hiking in the Cordillera Blanca) and Brazil (the pretty colonial towns of Minas Gerais). Lizzy had also visited Brazil (the beaches and historic towns of the north-eastern coast) and Ed Miles (now based in Perth with his young family) had just got back from Chile's Carretera Austral. Ali had loved her first visit to Paraguay (still worth including on a trip to southern Brazil or northern Argentina, particularly the Jesuit missions). We had found several charming new hotels to suggest to our clients, many of which we still work with 10 years later.
www.lastfrontiers.com/articles/view/last-frontiers-newsletter-number-14-december-2009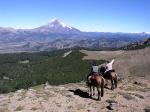 Lanin volcano, Argentina
I had just got back from a trip to the Argentine and Chilean Lake District, including a side trip to see the southern right whales off the Valdes peninsula. Exactly 10 years later, I have just returned from the same area, this time checking possible viewing sites for the December 2020 total solar eclipse for one of our Oxbridge groups. My side trip (to try and convince my wife Fiona that it was not all work) was 3 days riding and fishing, lovely.
Up-to-date knowledge and personal experience of places are still as important to us as ever. Our latest reconnaissance trips since the last newsletter have included:
Lizzy in Chile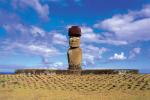 Moai on Easter Island
Lizzy returned to Chile in September for a comprehensive visit which included the Atacama desert, the wine country around Santiago, and Torres del Paine National Park in the far south. She loved spending time in these areas out of season and did some wonderful hikes in Torres del Paine. Her trip also included a few days in Easter Island, a mere 5 hour flight west from Santiago. She was fascinated by the stories she heard, and inspired to write a brief history for our website. Read it here:
www.lastfrontiers.com/articles/view/a-brief-history-of-easter-island-lizzy-september-2019
Emily in the Galapagos Islands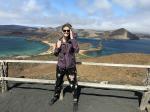 Emily at the viewpoint across Bartolomé islet
Emily spent 3 weeks in Ecuador, travelling down the 'avenue of the volcanoes' with our local partner Marco Toscano (we have been working with Marco for 20 years now and the feedback we receive is always wonderful - nothing is too much trouble). She then flew to the Galapagos for her very first visit. In the following article she describes her experiences, while trying to give a flavour of a typical week on the enchanted islands:
www.lastfrontiers.com/articles/view/galapagos-cruise-a-typical-week-emily-september-2019
Sue in Brazil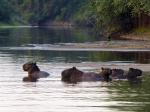 Capybaras in the Pantanal
Sue has always wanted to ride in the Brazilian Pantanal, and finally got her chance. She saw plenty of wildlife (including macaws, capybaras, caiman, armadillos and anteaters) and finished off her trip with a memorable sighting of a jaguar. In her trip report she rounds up the best riding options in Latin America, and describes her Pantanal ride with a small group, which included a night in a hammock camp..
www.lastfrontiers.com/articles/view/riding-in-latin-america-and-sue-in-the-pantanal-2019
Last Frontiers in the Press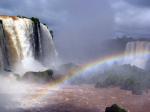 Iguassu Falls
Upcoming events and office news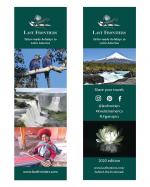 Our 2020 bookmark
We will have a stand (AC52) at the Destinations Travel Show (Kensington Olympia, Thursday 30 January - Sunday 2 February). On the Friday Emily will be giving a talk on the Galapagos Islands at 11:45am. As ever we have a supply of free tickets and if you would like one please let us know.
We have just produced a lovely bookmark, with images taken by both staff and clients. We'll have a supply at our stand, or see the story here:
If we can help with your travel plans, just let us know.
With best wishes for 2020 from all at Last Frontiers
Ed
--
Edward Paine
Last Frontiers Limited
Tel: 01296-653000 | info@lastfrontiers.com | www.lastfrontiers.com
The Mill | Quainton Road | Waddesdon | Buckinghamshire | HP18 0LP
"We arrived home yesterday from an amazing three weeks in South America visiting Peru, Chile, Argentina and Brazil and wanted to thank you for putting together a fantastic package for us. With 9 different hotels and 6 internal flights we had anticipated a few difficulties but it is fair to say that things all ran very very smoothly. Before we set off we were slightly anxious about the pace of travel, the packing and unpacking etc. but it was all managed very well - all in all some very happy, well travelled clients. Thank you!"