Welcome to a festive round-up of Latin America news and staff travels. In this issue:
Last Frontiers' Top Three: Walks
Brazil: Claire on the Costa Verde and beyond
Guatemala: Nicola's trip through ancient ruins, jungle and buzzing markets
Office news
After nearly 6 years at Last Frontiers, Claire enjoyed a last hurrah in Brazil (see below) before leaving us for the attractions of Singapore. We will miss her and wish her every success.
Last Frontiers' Top Three: Walks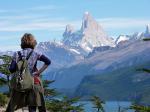 The Fitzroy peaks
With Christmas excesses firmly in the past, we thought a few of our favourite walks would be a suitable tonic!
Fitzroy National Park, Argentina
In southern Patagonia, the small village of El Chaltén is an ideal base for several day walks in the shadow of the stunning Fitzroy peaks. Time and budget permitting, you can cross the border from Argentina to Chile's famous Torres Del Paine national park - a real hiking Mecca with walks ranging from easy stolls to strenuous climbs. Best visited from November to May. Our Classic suggested itinerary for Argentina now visits El Chaltén:
www.lastfrontiers.com/argentina/regions/chalten
www.lastfrontiers.com/itineraries/classic-argentina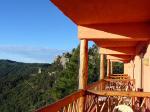 Copper canyon
Copper Canyon, Mexico
Most people think of Mexico as a cultural or beach destination, yet there are many stunning hikes to be enjoyed here too. The Copper Canyon would be our first choice as it lies off the beaten track in western Mexico and, as the name suggests, takes you past copper-green-hued canyon walls. Best visited March to May or September and October.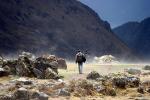 Salkantay Inca trail
Walking in Peru
No walk round-up would be complete without mentioning Peru, where there are a multitude of walking possibilities. Whether you want to hike the classic Inca Trail, spend days walking from one remote lodge to another on the MLP trek or are built like a mountain goat and suited to high altitudes and the snow-capped peaks of the Cordillera Blanca - there really is something for everyone. Most walking is best from April to November.
Claire on the Costa Verde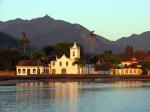 Paraty
Nicola in Guatemala - ruins, jungle and markets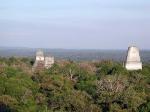 Tikal
Last Frontiers in the press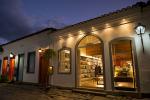 Pousada Literaria
Dan Linstead has just published a lovely article on Brazil in Wanderlust magazine that we helped arrange. It included a few days at Casa Cairuçu, owned by our very own ex-Last Frontiers' colleague Simon Heyes. He also stayed in Paraty itself, at the charming Pousada Literaria.
We will be at the Destinations Travel Show at London's Kensington Olympia (2-5 February) where we will have a stand in the Latin America section. Let us know if you would like a ticket. On the Friday at 1130 Sue and Nicola will be giving a talk called 'Beyond Costa Rica: Volcanoes and Wildlife' in the Meet the Experts theatre.
With best wishes and Happy New Year from all at Last Frontiers
Ed
--
Edward Paine
Last Frontiers Limited
Tel: 01296-653000 | info@lastfrontiers.com | www.lastfrontiers.com
The Mill | Quainton Road | Waddesdon | Buckinghamshire | HP18 0LP
Facebook | Instagram | Pinterest
"We had a really fantastic time. We saw jaguar, puma, eight types of monkey, two types of caiman, peccary, deer, short-eared dog, southern tamandua, forty species of bird and countless frogs, insects and butterflies. Awe-inspiring ruins, magical scenery, fascinating culture and such wonderfully friendly people."