The coffee region, colonial towns and national parks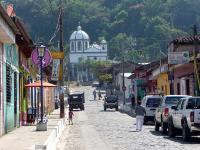 Towards the Guatemalan border to the west lie volcanoes and pretty indigenous villages, many of which retain their traditions such as a candle-lit night markets or weekend local gastronomy festivals. The soil is volcanic and therefore very fertile and there are many farms and coffee plantations. The best coffee grows between 1,200 and 1,700 feet above sea level and much of the terrain here is at this optimum height. Sonsonate is the centre of the cattle-raising region. There are dramatic volcanic landscapes around Cerro Verde, Volcán Izalco and Lago de Coatepeque with waterfalls and thermal springs.
There are a number of colonial towns throughout the centre of the country, with attractive architecture and fine churches. Santa Ana is the second city in the country and is close to the archeological sites of Joya de Cerén, San Andrés and Tazumal. Close by is the border with western Honduras and an easy onward route to Copán. La Palma is becoming a well-known centre for handicrafts and artisans workshops abound. Further north on the border itself is the Parque Nacional Montecristo, which is El Salvador's last remaining cloud forest and is full of birds, wildlife and orchids. The famous añil or indigo dye has been produced in this area for centuries and there is an indigo museum and workshop in Texistepeque.
To the west Barra de Santiago is a small, remote fishing village with coconut plantations. Away from the coast the El Imposible national park is deserted, made up of rare and threatened dry, tropical forest, and offers excellent hiking opportunities.
Our preferred accommodation