San Salvador, Pacific coast beaches and historic colonial town, Suchitoto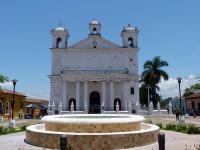 The capital, San Salvador, is a modern-looking city surrounded by mountains with upmarket shopping centres, restaurants and hotels which cater particularly for the business visitor. It has some excellent museums and art galleries, particularly the National Anthropology Museum which charts the history of the different periods in the development of the region, from Olmec to Toltec to Maya. Because of the small size of the country, it is easy to base yourself in the capital and go out each day on excursions.
There are beaches for 300km all the way along the Pacific coast, some which are best for surfing and others for diving. Playa Costa del Sol is being particularly developed as an international tourist resort and the Jiquilisco bay, towards the east, is lined with mangroves and home to a wide variety of birds. The coastline has both private and public resorts and is a mix of grey, volcanic black and golden sand beaches. Further east there are the remote islands of the Gulf of Fonseca and the faded glory of the port town of La Unión.
Suchitoto is about 1.5 hours north east of San Salvador and lies at the foot of Lake Suchitlán, with fine views across the water to the mountains of the north. Suchitoto, founded over 1,000 years ago by the Pipiles, has had a cultural renaissance over recent years with artists and artisan workers basing themselves in the town and makes a pleasant base from which to explore.
Our preferred accommodation

means that the hotel is one of our Dream Destinations.