The major islands and visitor sites whose only inhabitants are the wildlife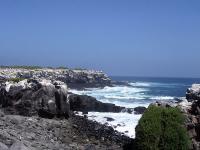 The Galapagos, formed relatively recently in geological terms, has six large islands, twelve smaller ones and over forty small islets. Here we list the most important ones from a visitor's perspective.
Bartolomé
Bartolomé is the most photographed point on the Galapagos, with a tall rock shattered by US bombers who used it as a practice target during the last war (when they had a base on Baltra). Excellent snorkelling off the shore and a good chance to see penguins. A short walk through dunes leads to another beach (turtles, sharks). Another landing site gives access to the island's summit after a stiff climb through a barren and dramatic moonscape.
Daphne
A large tuft cone, with sparse vegetation and two small craters. Blue-footed and Nasca (masked) boobies, red-billed tropicbirds. Visits are restricted.
Española (Hood)
Visitor sights include: Punta Suárez - a rocky point with one of the most impressive concentrations of wildlife on the Galapagos. Blue-footed and Nasca boobies, mockingbirds, frigatebirds, waved albatross (April to December), swallow-tailed gulls and finches. Gardner Bay - a lovely sandy beach. Sea lions and marine iguanas.
Fernandina (Narborough)
Visitor sites: Punta Espinosa - the most westerly island and not visited on all itineraries, this is the principal site where the flightless cormorant (the rarest seabird in the world) can be seen. It is the youngest island geologically, and the a'a (uncomfortable!) lava flows are particularly impressive. Galapagos hawks, many marine iguanas.
Genovesa (Tower)
Visitor sites: Darwin Trail - red-footed and Nasca boobies, frigate birds, cliffs and tidepools. Prince Philip's Steps - a steep ascent to the top of the cliffs; lava gulls and the lava owl can sometimes be seen.
Isla Mosquera
A small lava reef between Baltra and North Seymour. Mainly sea lions and sea birds.
Plaza Sur
One of a pair of small uplifted islands with Opuntia (prickly pear) cacti. Marine and land iguanas, several colonies of sea lions, and five species of seabird which nest in the cliffs.
Rábida (Jervis)
There is a small, salty lagoon behind the red sand beach where flamingos can often be seen. A trail leads to the top of the eastern cliffs (sea lions, seabirds, palo santo trees).
Santa Fé
A very pretty bay with two trails, one through tall prickly pear cactus and the other to a viewpoint on the top of a cliff. The unique land iguana is sometimes seen.
Santiago (James)
Visitor sites include: Puerto Egas - a beautiful rocky shoreline and natural cove used by pirates in the past. Seabirds, yellow-crowned night heron, whimbrel, American oystercatchers and fur sea lions. Espumilla - small, salty lagoon behind a long coffee-coloured beach (good for swimming and surfing). Darwin finch, ducks, turtle nests and occasionally flamingos. Sullivan Bay - usually combined with Bartolomé, this is one of the best sites (with Fernandina) to see a recent lava flow (100 years old). Mainly made up of black pahoehoe (ropy) lava, which has surrounded and contrasts with the older red rocks (pyroclastic cones).
Seymour Norte (North Seymour)
This uplifted island has the largest colony of magnificent frigate birds, also blue-footed boobies, fur sea lions and iguanas. If you are lucky you will see surfing sea lions!
Sombrero Chino
Beautiful scenery and lava formations around a small volcanic cone giving it the 'Chinese Hat' appearance. Sea lions, marine iguanas.