Our preferred Galapagos yachts and small cruise ships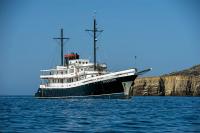 The Galapagos Islands lie on the Equator nearly 1000km west of mainland Ecuador. From seals and iguanas to turtles and finches, it is impossible not to be impressed by the uniqueness and diversity of the nature and wildlife. Here we list our favourite Galapagos boats.
Our preferred accommodation

means that the hotel is one of our Dream Destinations.