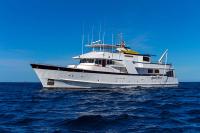 Beluga
Location
ex Baltra (Galapagos yachts and cruises, Galapagos)
Description
Quick facts - Level: First class | Passengers: 16 | Duration: 5/7 nights | Length: 110 feet | Cruising speed: 12 knots | Operator: Enchanted Expeditions

A fully air-conditioned comfortable steel-hulled motor yacht with spacious communual areas, a large sun deck and panoramic windows in the salon/dining area. Equipped with the most modern safety and mechanical equipment, she is outfitted exclusively for the Galapagos Islands and has been awarded the Smart Voyager certification for adhering to conservation standards.
Departures
Wednesdays and Fridays
Capacity
16 passengers
Activities
An experienced naturalist guide leads daily island, panga and snorkelling excursions and presentations are given on board. Beluga carries two kayaks that can be used at certain sites permitted by the National Park. The use of snorkelling gear and wetsuits is included.
Accommodation
8 air-conditioned ensuite cabins (2 with double beds and 6 with twin beds). One of the cabins also has an extra berth, so can be booked as a triple.
Client comments and reviews
The Galapagos Islands were unbelievable and the Beluga team looked after us really well. We were really fortunate, in that for the first three days on board there were only three couples, we all got on very well and felt very spoilt. Juan our guide was excellent and we will never forget the experience of seeing so many beautiful birds and animals. - RH (November 2022)
Our Beluga boat trip was fantastic - amazing crew and guide, plus a lovely group. So wonderful to wake up to a new magical island every day! Delicious food and drink and they even made me a surprise birthday cake. The wildlife was incredible, a lot more abundant than on the land stays (which were amazing too). Loved Espanola and Floreana, in particular (the whole Tower itinerary was perfect). Honestly such an amazing trip, just want to keep reliving it again and again. - CW (May 2022)
Beluga was fantastic – Our guide was enthusiastic, knowledgeable and paced everything perfectly for the guests (we were a diverse group with older passengers and young kids too). They also sorted a flotation device for me so I wasn't too petrified at the 5.30am snorkelling sessions! - IP (July 2018)
Loved the Beluga. The room was a good size, the food was great, it was spotlessly clean and the crew were lovely. - MW (May 2014)
Visiting the Galapagos the second time around was even more amazing, with Isabela and Fernandina being less touched by tourism. The Beluga was not quite as comfortable as the Santa Cruz in 2010, but with much more deck space. The naturalist guide was excellent and I was also served the best meals of the whole trip. - DP (January 2014)
Our trip was wonderful, thank you very much for all your help. The cruise on Beluga was something I was worried about but all my fears were overcome - very comfortable, good showers and exceptional food. Our guide was outstanding, couldn't fault her, and the captain charming. - RC (September 2011)
We had an extremely exciting and varied holiday and to finish with a week in the Galapagos Islands on Beluga was perfect. We could not fault the arrangements and our guide was quite excellent. - MM (February 2009)
It was great. For us definitely the right choice going on a smaller boat, although I don't know what a bigger boat is like, I can imagine. We were able to change course and follow whales and anchor away from some of the other bigger craft. We were made to feel very welcome and we felt as if we owned the boat. All the staff were very good especially our guide who always surprised us with something different on every Island. I would say our guide was exceptional. His English was 1st class and he had a wonderful knowledge about everything to do with the Islands. We do enjoy snorkelling but out there it was something completely different, playing with sea lions and sharing the sea with some magnificent fish, turtles and sharks. Sally and I both agreed that this trip was not a holiday but an experience. - RW (April 2006)
Beluga operates a 14 night programme which is a combination of two 7 night cruises, Fernandina (Itinerary F) and Tower (Itinerary T). There is also the option of a 5 night cruise (Friday to Wednesday).
Itinerary T - Tower (Genovesa)
Day 1 (Wednesday): Baltra, Santa Cruz (Charles Darwin Research Centre, Highlands)
Day 2: Plazas, Santa Fé
Day 3: San Cristóbal (Kicker Rock/Cerro Brujo, El Junco, Visitor Interpretation Center)
Day 4: Española (Islet Osborn, Gardner Bay, Islet Gardner, Punta Suárez)
Day 5: Floreana (Devil's Crown, Punta Cormorant, Post Office Bay)
Day 6: Dragon Hill, Santiago (Sullivan Bay)
Day 7: Genovesa (Darwin Bay, Prince Philip's Steps)
Day 8: Santa Cruz (Caleta Tortuga Negra), Baltra
Itinerary F - Fernandina
Day 1 (Wednesday): Baltra, Santa Cruz (Highlands, Charles Darwin Research Centre)
Day 2: Chinese Hat, Rabida
Day 3: Isabela (Las Tintoreras, Sierra Negra volcano)
Day 4: Isabela (Punta Moreno, Elizabeth Bay)
Day 5: Isabela (Urvina Bay, Tagus Cove)
Day 6: Fernandina (Punta Espinosa), Isabela (Punta Vicente Roca)
Day 7: Santiago (Playa Espumilla, Caleta Bucanero), Bartolomé
Day 8: Seymour Norte, Baltra
Double cabin
Cabin 3 has a double bed.
Cabin 5 has a queen size bed.
Cabins 1, 2 and 4 have twin beds as does Cabin 8 but this is slightly more spacious.
Cabins 6 and 7 on the main deck have twin beds that can be put together as a double.
From
To
Nights
Room type
Price
Beluga 7 night cruise
1 Jan 2023
31 Dec 2023
7
Double cabin
$5,300
Christmas and New Year departures will incur a supplement.
50% discount for children under 12 years of age (one child per adult); this discount is not applicable for Christmas and New Years departures.
Single supplement is 50%.