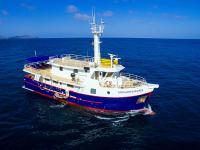 Cachalote Explorer
Location
ex Baltra (Galapagos yachts and cruises, Galapagos)
Description
Quick facts - Level: First class | Passengers: 16 | Duration: 5/7 nights | Length: 88 feet | Cruising speed: 8 knots | Operator: Enchanted Expeditions

This comfortable steel-hulled motor yacht has a spacious indoor salon/dining area, plenty of deck space, and is air-conditioned throughout.
Departures
Wednesdays
Capacity
16 passengers
Activities
An experienced naturalist guide leads daily island, panga and snorkelling excursions and presentations are given on board. Cachalote Explorer carries kayaks that can be used at certain sites permitted by the National Park. The use of snorkelling gear and wetsuits is included.
Accommodation
8 air-conditioned cabins, with private bathroom facilities. There is a combination of queen, double and twin bed cabins.
The Cachalote Explorer offers 5, 7 and 14-night itineraries. The 14 night itinerary is a combination of the two 7 night trips, detailed below.
Fernandina Itinerary
Day 1: Baltra, Santa Cruz
Day 2: Sombrero Chino, Rábida
Day 3: Isabela (Sierra Negra volcano, Puerto Villamil)
Day 4: Isabela (Punta Moreno, Elizabeth Bay)
Day 5: Isabela (Urbina Bay, Tagus Cove)
Day 6: Fernandina (Punta Espinosa), Isabela (Punta Vicente Roca)
Day 7: Santiago (Puerto Egas), Bartolomé
Day 8: Seymour Norte, Baltra
Tower Itinerary
Day 1: Baltra, Santa Cruz (Highlands, Charles Darwin Research Centre)
Day 2: Plaza Sur, Santa Fé
Day 3: San Cristóbal (Cerro Brujo, Galapaguero and El Junco)
Day 4: Española (Gardner Bay, Punta Suárez)
Day 5: Floreana (Punta Cormorant, Devil's Crown, Post Office Bay)
Day 6: Santa Cruz (Cerro Dragón), Santiago (Sullivan Bay)
Day 7: Genovesa (Darwin Bay, El Barranco)
Day 8: Santa Cruz (Caleta Tortuga Negra), Baltra
Lower Deck Small Twin/Double
Cabin 8, on the lower deck, has a lower double and an upper single bed. It is slightly smaller than the other lower deck cabins.
Lower Deck Twin/Double
Cabins 3, 4 and 7, on the lower deck, have lower double and upper single beds.
Cabins 5 and 6, on the lower deck, each have a queen size bed.
Upper Deck
Cabin 1 on the upper deck has a lower double and an upper single bed.
Cabin 2 on the upper deck has a lower double, a lower single and an upper single bed.
Prices per person. Where entries are not shown for all cabin/room types we have chosen an entry level example, so please just ask us for other types.
From
To
Nights
Room type
Price
Cachalote Explorer 5 night cruise
1 Jan 2021
31 Dec 2022
5
Lower Deck Small Twin/Double
$3,000
Lower Deck Twin/Double
$3,300
Upper Deck
$3,375
Cachalote Explorer 7 night cruise
1 Jan 2021
31 Dec 2022
7
Lower Deck Small Twin/Double
$4,000
Lower Deck Twin/Double
$4,400
Upper Deck
$4,500