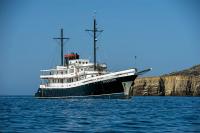 Evolution
Location
ex San Cristóbal and Baltra (Galapagos yachts and cruises, Galapagos)
Description
Quick facts - Level: First class | Passengers: 32 | Duration: 7 nights | Length: 192 feet | Cruising speed: 10-12 knots | Operator: Quasar Expeditions

A very comfortable, spacious motor yacht with the classic looks of a 1920s yacht, with an infirmary, boutique shop, good outdoor deck space and a hot tub.
Departures
Saturdays
Capacity
32 passengers
Activities
Experienced naturalist guides lead daily island, panga and snorkelling excursions and presentations are given on board. Evolution carries kayaks that can be used at certain sites permitted by the National Park. The use of snorkelling gear and wetsuits is included. Scuba diving is offered as an additional activity on the day the yacht visits Puerto Ayora (extra cost).
Accommodation
16 spacious double ensuite cabins on 3 decks.
Client comments and reviews
Great boat, and so glad we had the cabins at the top (A cabins) - it made all the difference. The food was very good and the Captain and staff were very friendly and helpful. - JF (January 2015)
Best rooms of the trip were our berths on the Evolution - A deck, rooms 2 and 3. Worth everything to be up there. And the Evolution ship I would recommend with great enthusiasm, so much deck space. Excellent charming Captain Victor and very happy crew. Very comfortable and great food too. Two guides for 32 guests, they were ok but for serious naturalists they might have reservations. Some books on board to delve in a bit deeper. - TS (January 2015)
The Galapagos and Evolution exceeding our wildest expectations, our feet never touched the ground, the crew and guides put so much effort and enthusiasm into the trip we feel in need of another holiday to recover! - RN (January 2014)
Our Galapagos cruise was simply amazing, and we cannot find anything other than praise for Quasar - please tell them that. The standards of the cruise were extremely high in all respects, the guides, tour director, food and equipment were all excellent and the entire crew was very good. They really seemed determined that everyone should have a good time, and we all did. Our experiences on the islands were just amazing, we packed in so much, and there were half a dozen opportunities for snorkelling, all extremely well supervised so for someone like me who is very much a novice. Please do pass on our comments - it really was the trip of a lifetime. - HS (October 2008)
Evolution operates a 14 night programme which is a combination of two 7 night cruises - Itinerary A and Itinerary B.
Itinerary A - In the steps of pirates and Darwin
Day 1 (Saturday): Baltra, Santa Cruz (Bahía Borrero)
Day 2: Isabela (Punta Vicente Roca), Fernandina (Punta Espinoza)
Day 3: Isabela (Urbina Bay, Tagus Cove)
Day 4: Bartolomé (Pinnacle Rock), Santiago (Sullivan Bay)
Day 5: Santa Cruz (Bachas Beach, Rábida)
Day 6: Santa Cruz (Highlands, Charles Darwin Research Centre)
Day 7: Española (Punta Suárez, Gardner Bay)
Day 8: San Cristóbal (Visitor Interpretation centre)
Itinerary B - Footsteps back in time
Day 1 (Saturday): San Cristóbal, Lobos
Day 2: Plaza Sur, Santa Cruz (Punta Carrion)
Day 3: Santiago (Sombrero Chino, James Bay)
Day 4: Genovesa (Darwin Bay, Prince Phillip's Steps)
Day 5: North Seymour Island, Santa Fé
Day 6: Floreana (Post Office Bay, Devil's Crown)
Day 7: Santa Cruz (Highlands, Charles Darwin Research Centre)
Day 8: Santa Cruz (Caleta Tortuga Negra), Baltra
Deluxe Stateroom
Cabin C4 and cabins D1 - D4 (on the lower deck), all with either twin beds or a double bed.
Master Suite
Cabin A1 on the upper deck. A very spacious cabin with double bed.
Premium Stateroom
Cabins C1 - C3 and C5 - C9. They are all spacious, and have either a double or twin beds.
Suite
Cabins A2 and A3 on the upper deck. Cabin A2 has twin beds and A3 a double bed, and both are spacious.
Prices per person. Where entries are not shown for all cabin/room types we have chosen an entry level example, so please just ask us for other types. See below for more price notes.
From
To
Nights
Room type
Price
Evolution 7 night cruise (off-peak departures)
1 Jan 2023
31 Dec 2023
7
Deluxe Stateroom
$7,300
Master Suite
$9,400
Premium Stateroom
$7,900
Suite
$8,900
Evolution 7 night cruise (peak departures)
1 Jan 2023
31 Dec 2023
7
Deluxe Stateroom
$9,300
Master Suite
$11,950
Premium Stateroom
$10,000
Suite
$11,350
Evolution 7 night cruise (off-peak departures)
1 Jan 2024
31 Dec 2024
7
Deluxe Stateroom
$8,950
Master Suite
$10,750
Premium Stateroom
$9,550
Suite
$10,350
Evolution 7 night cruise (peak departures)
1 Jan 2024
31 Dec 2024
7
Deluxe Stateroom
$9,800
Master Suite
$13,050
Premium Stateroom
$11,550
Suite
$12,550
Please enquire for specific peak and off-peak departure dates.
Price includes all meals and soft drinks throughout the cruise.
50-75% Single Supplement, depending on cabin type (not valid over Christmas and New Year).
15% discount for children 15 years and under (not applicable for Christmas and New Year, and maximum of 3 discounts per family).
Christmas and New Year departures will incur a supplement.