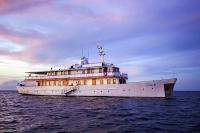 Grace
Location
ex San Cristóbal and Baltra (Galapagos yachts and cruises, Galapagos)
Description
Quick facts - Level: Luxury | Passengers: 16 | Duration: 7 nights | Length: 145 feet | Cruising speed: 12 knots | Operator: Quasar Expeditions

A classic motor yacht built in Southampton in 1928. She has a colourful history, previously owned by Aristotle Onassis and given to Princess Grace of Monaco as a wedding gift, and also used during WWII at Dunkirk (she even captured a German torpedo E-boat!). The yacht has an al fresco dining area, sun deck, library, bar-salon and outdoor Jacuzzi.
Departures
Tuesdays
Capacity
16 passengers
Activities
Experienced naturalist guides lead daily island, panga and snorkelling excursions and presentations are given on board. Grace carries kayaks that can be used at certain sites permitted by the National Park. The use of snorkelling gear and wetsuits is included. Scuba diving is offered as an additional activity on the day the yacht visits Puerto Ayora (extra cost).
Accommodation
9 spacious double cabins (twin and double beds), with air-conditioning and private bathrooms. 4 lower (Carolina) deck Deluxe and Premium Staterooms have portholes, and 4 upper (Albert) deck Suites and Master Suites have picture windows. They are all very comfortable, but the Master Suites, cabins A1 and A4, are slightly larger with a small sitting area. There is also 1 double cabin, the Grace Kelly Suite, on the main (Monaco) deck, which is the largest cabin on the yacht.
Client comments and reviews
The Grace is an exceptionally comfortable and spoiling boat with an absolutely marvellous crew - friendly, helpful, thoughtful, plus the guides are absolutely exceptional, and it was a privilege indeed to have two on board for eighteen passengers.

We were also privileged to have an extremely good chef, Ariana the excellent housekeeper, Paula the cleaner, the wonderful crew who were always there to help and, of course, a very charming Captain, all of whom give the boat an exceptionally friendly and happy and fun atmosphere. The Captain and his crew made this an unforgettable trip of a lifetime and thank you to the guides too – all spectacularly knowledgeable and great fun.

The Galapagos is such an extraordinarily unusual and beautiful place – better to go there rather than try to describe it. - PB (March 2022)
The Grace was a huge success. We had an amazing time and the boat, its crew, the guides and the Galapagos animals wildly exceeded our expectations. The western route was very well put together and opened up new experiences to us every day. Our fellow passengers were a very friendly and a fun bunch so it could not have been better. - CA (January 2022)
Grace operates a 14 night programme which is a combination of two 7 night cruises.
Itinerary A - Beyond Darwin's Footsteps
Day 1 (Tuesday): Baltra, Santa Cruz (Puerto Ayora and Darwin Station)
Day 2: Floreana (Highlands, Cormorant Point and Devil's Crown)
Day 3: Española (Punta Suárez, Gardner Bay and Gardner Islet)
Day 4: San Cristobal (Punta Pitt, Lobos Island and Kicker Rock)
Day 5: Santa Fe and South Plazas
Day 6: North Seymour and Bartolomé
Day 7: Chinese Hat, Santa Cruz (James Bay)
Day 8: Black Turtle Cove, Baltra
Itinerary B - Following Darwin's Trail
Day 1 (Tuesday): Baltra, Santa Cruz (Bachas Beach)
Day 2: Genovesa (Prince Philip's Steps, Darwin Bay)
Day 3: Santiago (James Bay, Espumilla Beach)
Day 4: Isabela (Punta Vicente Roca, Tagus Cove)
Day 5: Fernandina (Punta Espinosa), Isabela (Urvina Bay)
Day 6: Isabela (Elizabeth Bay, Punta Moreno)
Day 7: Isabela (Puerto Villamil: Las Tintoreras, Sucre's Cave, Tortoise Breeding Centre, Wetlands)
Day 8: Santa Cruz (Los Gemelos)
Premium Stateroom
Lower (Carolina) deck cabins C1, C2, C3 and C5 with a double bed and port holes.
Grace Kelly Suite
The only, and largest, cabin on the main (Monaco) deck with picture windows and a double bed.
Master Suite
Upper (Albert) deck cabins A1 and A4 with a double bed and picture windows.
Suite
Upper (Albert) deck cabins A2 and A3 with twin beds and picture windows.
Prices per person. Where entries are not shown for all cabin/room types we have chosen an entry level example, so please just ask us for other types. See below for more price notes.
From
To
Nights
Room type
Price
Grace 7 night cruise (off-peak departures)
1 Jan 2023
31 Dec 2023
7
Premium Stateroom
$8,500
Grace Kelly Suite
$10,900
Master Suite
$9,650
Suite
$9,000
Grace 7 night cruise (peak departures)
1 Jun 2023
6 Jan 2024
7
Premium Stateroom
$10,850
Grace Kelly Suite
$13,900
Master Suite
$12,300
Suite
$11,550
Grace 7 night cruise (off-peak departures)
1 Jan 2024
31 Dec 2024
7
Premium Stateroom
$12,100
Grace Kelly Suite
$15,350
Master Suite
$13,800
Suite
$12,700
Grace 7 night cruise (peak departures)
1 Jan 2024
31 Dec 2024
7
Premium Stateroom
$12,100
Grace Kelly Suite
$15,350
Master Suite
$13,800
Suite
$12,700
Please enquire for specific peak and off-peak departure dates.
Price includes all meals and soft drinks throughout the cruise.
50-75% Single Supplement, depending on cabin type (not valid over Christmas and New Year).
15% discount for children 15 years and under (not applicable for Christmas and New Year, and maximum of 3 discounts per family).
Christmas and New Year departures will incur a supplement.