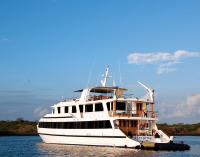 Integrity
Location
ex Baltra (Galapagos yachts and cruises, Galapagos)
Description
Quick facts - Level: Luxury | Passengers: 16 | Duration: 7 nights | Length: 141 feet | Cruising speed: 12 knots | Operator: Integrity

A very comfortable, spacious motor yacht with simple and tasteful décor and stabilizers to minimize motion at sea. The modern interiors have large picture windows, the dining room and lounge area are air-conditioned, as are the cabins, and there is plenty of outdoor space with a lovely sun deck, outdoor bar and hot tub and swimming platform. Complimentary WiFi is available in the main salon and dining room.
Departures
Saturday
Capacity
16 passengers
Activities
An experienced naturalist guide leads daily island, panga and snorkelling excursions and the boat carries kayaks that can be used at certain sites permitted by the National Park. The use of snorkelling gear and wetsuits is included.
Accommodation
8 air-conditioned staterooms and 1 suite on the main deck, all with large picture windows, an ensuite bathroom with a walk-in shower, natural wood details, comfortable furnishings and soft upholstery in muted tones. They also have a mini-bar, flat screen entertainment system and individual temperature control.
Integrity operates a 14 night programme which is a combination of two 7 night cruises.
Eastern Route
Day 1: (Saturday): Baltra, Santa Cruz (Highlands and Charles Darwin Station)
Day 2: Española (Gardner Bay and Punta Suárez)
Day 3: San Cristóbal (Punta Pitt and Cerro Brujo)
Day 4: Santa Fé and South Plazas
Day 5: Genovesa (Darwin Bay and Prince Philip's Steps
Day 6: Santiago (Sullivan Bay) and Bartolomé
Day 7: Rábida and Sombrero Chino
Day 8: Baltra
Western Route
Day 1: (Saturday): Baltra, Santa Cruz (Highlands and Charles Darwin Station)
Day 2: Floreana (Punta Cormorant, Champion Island, Post Office Bay, Highlands and Black Beach)
Day 3: Isabela (Punta Moreno, Elizabeth Bay)
Day 4: Isabela (Urbina Bay) and Fernandina (Punta Espinosa)
Day 5: Isabela (Tagus Cove and Punta Vicente Roca)
Day 6: Santiago (Puerto Egas, Espumilla Beach and Buccaneer Cove)
Day 7: Santa Cruz (Bachas Beach and Caleta Tortuga Negra) and North Seymour
Day 8: Baltra
Owners Suite
Stateroom 1 in the bow of the ship on the main deck measuring 32.5 sq metres. It spans the main deck from port to starboard with picture windows on both sides, has a kingsize double bed, writing desk with chair and comfortable seating.
Single Stateroom
Cabin 2 on the main deck is for single use only. It measures 11.15 sq metres and has a picture window, single bed, a table and chair.
Stateroom
The Staterooms are all on the main deck. Staterooms 3-9 measure 13.9 sq metres and have large picture windows, a table and chairs. Cabin 9 has a queen double bed and cabins 3-8 can be configured as either twin beds or a kingsize double bed.
Prices per person. Where entries are not shown for all cabin/room types we have chosen an entry level example, so please just ask us for other types. See below for more price notes.
From
To
Nights
Room type
Price
Integrity 7 night cruise
1 Oct 2023
16 Dec 2023
7
Owners Suite
$8,795
Low season
Single Stateroom
$9,395
Stateroom
$7,595
6 Jan 2024
24 Aug 2024
7
Owners Suite
$10,295
Regular season
Single Stateroom
$10,895
Stateroom
$9,095
5 Oct 2024
14 Dec 2024
7
Owners Suite
$9,795
Low season
Single Stateroom
$10,395
Stateroom
$8,595
15 Dec 2024
28 Dec 2024
7
Owners Suite
$11,095
High season
Single Stateroom
$11,695
Stateroom
$9,895
Return flights from mainland Ecuador are included for 2023 and 2024 departures.
Christmas and New Year departures will incur a supplement.
Single supplement: 100% Owners Suite and 95% Staterooms 3-9.