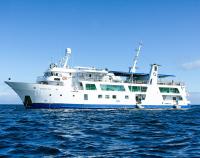 Isabela II
Location
ex Baltra (Galapagos yachts and cruises, Galapagos)
Description
Quick facts - Level: First class | Passengers: 40 | Duration: 4/6 nights | Length: 166 feet | Cruising speed: 10 knots | Operator: Metropolitan Touring

A deluxe cruise ship with plenty of deck space, large, comfortable communal areas, a hot tub, library, fitness area and infirmary.
Departures
Mondays, Thursdays and Fridays
Capacity
40 passengers
Activities
Experienced naturalist guides lead daily island, panga and snorkelling excursions and presentations are given on board. Isabela II carries kayaks, stand-up paddle boards and a glass-bottom boat that can be used at certain sites permitted by the National Park. The use of snorkelling gear is included and wetsuits are available to rent.
Accommodation
18 Classic cabins (16 with twin beds and 2 with a double bed plus a sofa bed suitable for a child), 1 Master suite and 1 Standard cabin best suited to single occupancy. All cabins have a private bathroom.
Client comments and reviews
The cruise on Isabella II was excellent, everything on the boat was perfect. Nice group of people and the guides all very good. - DL (November 2011)
The Isabela II was ideal, very comfortable with interesting guests from all over the world. The food was excellent and the naturalists were brilliant, very knowledgeable and enthusiastic communicators. The programme of walking tours and snorkelling was very well organised and gave us an amazing insight into the widlife. I would definitely recommend cruising for 7 days as we saw 10 different islands and got an excellent overview. - BP (August 2010)
Everything about Isabela was superb and was the highlight of the hoilday. The arrangements made for Agents meeting us, looking after us, seeing that we were extremely well looked after and cared for in such a wonderful attentive manner, was very gratifying. - AP (November 2005)
Isabela II operates a 14 night programme which can be split into two 4 night cruises and a 6 night cruise. The Northern Islands, the Western Islands and the Southeastern Islands.
Northern Islands (Monday to Friday)
Day 1 (Monday): Baltra, Santa Cruz (El Chato Highlands, Puerto Ayora)
Day 2: Santiago (Puerto Egas), Chinese Hat Islet
Day 3: Genovesa (Prince Phillip's Steps, Darwin Bay)
Day 4: Santa Fe, South Plaza
Day 5: Baltra
Western Islands (Thursday to Monday)
Day 1 (Thursday): Baltra, Santa Cruz (Twin Craters, Charles Darwin Research Centre)
Day 2: Bartolomé, Santiago (Sullivan Bay)
Day 3: Santa Cruz (Cerro Dragón), Santiago (Buccaneer Cove)
Day 4: Isabela (Punta Vicente Roca), Fernandina (Punta Espinoza)
Day 5: Baltra
Southeastern Islands (Friday to Thursday)
Day 1 (Friday): Baltra, Santa Cruz (Las Bachas)
Day 2: San Cristobal (Punta Pitt, Cerro Colorado)
Day 3: Española (Gardner Bay, Punta Suaréz)
Day 4: Floreana (Cormorant Point, Post Office Bay, Baroness Cove)
Day 5: Isabela (Punta Moreno), Fernandina (Punta Mangle)
Day 6: Santa Cruz (Eden Islet), North Seymour
Day 7: Baltra
Classic cabin
18 cabins, each measuring 13 square metres; 16 have twin beds and 2 have a double and a single bed which can be used for families of 3.
Master Suite
One Master suite measuring 16 square metres, and the only cabin on the main deck.
Single cabin
One single cabin, measuring 12 square metres.
Prices per person. Where entries are not shown for all cabin/room types we have chosen an entry level example, so please just ask us for other types. See below for more price notes.
From
To
Nights
Room type
Price
Isabela II 4 night cruise
1 Jan 2023
31 Dec 2023
4
Classic cabin
$4,383
Master Suite
$4,582
Isabela II 6 night cruise
1 Jan 2023
31 Dec 2023
6
Classic cabin
$5,899
Master Suite
$6,178
Single cabin
$5,562
Isabela II 4 night cruise
1 Jan 2024
31 Dec 2024
4
Classic cabin
$4,514
Master Suite
$4,719
Isabela II 6 night cruise
1 Jan 2024
31 Dec 2024
6
Classic cabin
$6,076
Master Suite
$6,363
Cabins for single use incur a 100% surcharge.
10% discount for children under 12 sharing a cabin with an adult for all departures excluding Christmas and New Year. Only one child discount per adult. Minimum age 6.
Christmas and New Year departures will incur a supplement.