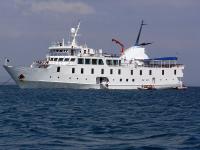 La Pinta
Location
ex Baltra (Galapagos yachts and cruises, Galapagos)
Description
Quick facts - Level: First class | Passengers: 48 | Duration: 4/6 nights | Length: 207 feet | Cruising speed: 10 knots | Operator: Metropolitan Touring

A deluxe cruise ship with large, comfortable communal areas including a reception lounge, lounge/bar, Jacuzzi, gym, library, sky bar and sundeck.
Departures
Mondays, Thurdays and Fridays
Capacity
48 passengers
Activities
Experienced naturalist guides lead daily island, panga and snorkelling excursions and presentations are given on board. La Pinta carries kayaks, stand-up paddle boards and a glass bottom boat that can be used at certain sites permitted by the National Park. The use of snorkelling gear and wetsuits is included.
Accommodation
24 spacious cabins with private bathrooms including 4 triple cabins and 4 connecting cabins, ideal for families.
Client comments and reviews
The cruise on La Pinta was amazing. Fantastic staff and guides, and as for the wildlife and scenery - breathtaking. - SO (March 2019)
La Pinta was fine (except for the US children!) with good food (expensive wine) and knowledgeable guides. We learnt a lot, not least that it wasn?t all Darwin! - DS (February 2016)
The absolute highlight of our trip was the Galapagos cruise. We all loved every minute of it. I am still puzzled by how spacious our cabin was when you look at the size of the yacht from the outside! How do they do it? Anyway, the organisation of the cruise was extremely impressive. The staff on board were brilliant. The food was excellent. I personally loved the daily hikes on the islands. We got some amazing photos. The children both took very well to snorkelling whilst I couldn?t get to grips with it at all. That didn?t matter one bit. - SI (August 2015)
La Pinta is a beautiful small ship. It was the perfect size for us and there were enough naturalists to ensure that there was a choice of activities. - BB (December 2011)
La Pinta and the cruise were excellent. - CW (May 2008)
We have had a great time. La Pinta is lovely and we had a great crowd of people. I wasn't too well the first few days and didn't snorkel, but the glass bottomed boat was almost as good, and we had a naturalist to tell us what we were looking at. - SM (April 2008)
La Pinta operates a 14 night programme which is split into a 6 night and two 4 night cruises. The Eastern Islands, the Northern Islands and the Western Islands.
Eastern Islands (Thursday to Monday)
Day 1 (Thursday): Baltra, Plaza Sur
Day 2: Santa Fé, San Cristóbal (Galapaguera, Punta Pitt)
Day 3: San Cristóbal (Punta Pitt, Cerro Brujo)
Day 4: Española (Punta Suárez, Gardner Bay)
Day 5: Santa Cruz (Charles Darwin Research Station), Baltra
Northern Islands (Monday to Friday)
Day 1 (Monday): Baltra, Santa Cruz (El Chato Tortoise Reserve)
Day 2: Santa Cruz (Bahía Ballena), Sombrero Chino
Day 3: Bartolomé, Santiago (Sullivan Bay)
Day 4: Genovesa (Darwin Bay, Prince Philip's Steps)
Day 5: Baltra
Western Islands (Friday to Thursday)
Day 1 (Friday): Baltra, Seymour Norte
Day 2: Isabela (Punta Vicente Roca), Fernandina (Punta Espinosa)
Day 3: Isabela (Urvina Bay, Tagus Cove)
Day 4: Rábida (Red Beach), Santa Cruz (Cerro Dragón)
Day 5: Santa Cruz (Charles Darwin Research Station, Twin Craters)
Day 6: Floreana (Post Office Bay, Baroness Cove, Punta Cormorant, Champion)
Day 7: Baltra
Twin/Double cabin
20 cabins (17 square metres) with large windows. The beds can be separated or joined together to form either twin or double beds.
Triple cabin
There are 4 triple cabins, each measuring 23 square metres, with large windows.
Prices per person. Where entries are not shown for all cabin/room types we have chosen an entry level example, so please just ask us for other types. See below for more price notes.
From
To
Nights
Room type
Price
La Pinta 4 night cruise
1 Jan 2023
31 Dec 2023
4
Twin/Double cabin
$5,643
Triple cabin
$5,643
La Pinta 6 night cruise
1 Jan 2023
31 Dec 2023
6
Twin/Double cabin
$7,562
Triple cabin
$7,562
La Pinta 4 night cruise
1 Jan 2024
31 Dec 2024
4
Twin/Double cabin
$5,812
Triple cabin
$5,812
La Pinta 6 night cruise
1 Jan 2024
31 Dec 2024
6
Twin/Double cabin
$7,789
Triple cabin
$7,789
10% discount for children under 12 sharing a cabin with an adult for all departures excluding Christmas and New Year. Only one child discount per adult. Minimum age 6.
There are 3 cabins available for single use at 50% surcharge (other cabins would incur a 100% surcharge).
Christmas and New Year departures will incur a supplement.