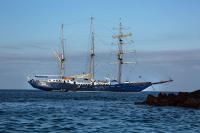 Mary Anne
Location
ex Baltra (Galapagos yachts and cruises, Galapagos)
Description
Not operating until further notice
Quick facts - Level: First class | Passengers: 16 | Duration: 7 nights | Length: 172 feet | Cruising speed: 8 knots | Operator: Andando

A lovely motor yacht with almost 1,000 square meters of sail, generous deck space and a beautifully wood-panelled interior. She carries a maximum of 16 passengers in 12 cabins so the space per person is particularly generous and single cabins are usually available at no supplement.
Departures
Saturdays
Activities
Experienced naturalist guides lead daily island, panga and snorkelling excursions and presentations are given on board. Mary Anne carries kayaks that can be used at certain sites permitted by the National Park. The use of snorkelling gear is included and wetsuits are available to rent.
Accommodation
12 cabins, all with private bathroom and air-conditioning. Cabins have one double lower berth and a single upper berth.
Our comments
A beautiful yacht with a very friendly crew.
Client comments and reviews
The Mary Anne was perfect for us all, the crew could not have been more accommodating and the food they produced was delicious and plentiful. - FV (May 2023)
We loved Mary Anne and all the activities. The guide, Gabriel, was fantastic. Crew brilliant and food excellent. Loved the wildlife and overall experience in the Galapagos. - LC (November 2018)
Your recommendation of the Mary Anne was spot on. As you know I had been looking for sometime for a boat that did not charge a single supplement and it was down to you that I found the Mary Anne which ticked this box. In addition, being a sailing craft, it was completely different to all the other boats sailing around the Islands which made the voyage even more spectacular. Everything on the boat was first class from the cabins, the meals, to the wonderful crew. Above all the route taken on this cruise took us to some of the more remote islands where the best of the wildlife was to be found. The Galapagos is the most unique place I have ever visited and it was my most memorable holiday ever. - PC (May 2019)
Hanging out for a berth in Mary Anne was well worth it. The food, guide and management of the shore-trips, snorkelling etc. were all first-class. The only very slight niggle was on the first, searingly hot day, after a very early start from Quito, it felt as though we were trailling round the Darwin Centre largely to eat up time until the ship was ready for embarkation - very understandable on a changeover day, but we were all exhausted by the time we did get on board. - RS (January 2017)
The Mary Anne was wonderful. All I could have hoped for. Excellent weather, food, company. I could not have improved on it. It was a memorable trip which I will recommend to everyone. I had always wanted to go on a cruise on a boat like that so the trip ticked several boxes and lived up to expectations completely. My room was a double with an en-suite bathroom. It was air conditioned and a welcome cool spot from the brilliant sun. - CS (April 2015)
Travelling on the Mary Anne was excellent, including a couple of hours helming the yacht under sail. The crew and guide were excellent, and made us most welcome and comfortable. - PM (June 2013)
With regard to our cruise on Mary Anne - we loved it! Lovely staff and great guides. It was full (24) with good range of nationalities and ages and all worked really well. - JW (February 2011)
The Mary-Anne, with 10 guests only, was a fantastic choice. Our guide Carolina was incredibly knowledgable and commanded the respect of us all. Food was excellent! - DT (December 2009)
The Mary Anne was everything we hoped she would be, and more so. What a beautiful boat! Whenever we came back from a land trip on the panga we could not believe our luck that we were staying on her, she looked so lovely rocking gently in the bay. And when they put all the sails up, that was just fabulous, we felt like Pirates of the Caribbean. I thought the crew were excellent, they all worked so hard, and the chef produced such yummy food, it was a highlight to eat out on deck so much - we were so lucky with the weather. - JF (September 2008)
The Galapagos was more than I hoped for just wonderful. Boat, crew and our guide first class. Food superb and company great. I just can't believe how wonderful the islands are and the animals, went snorkelling with a turtle & sea lions! - SS (November 2007)
The Mary-Anne was the perfect choice of ship for our tour of the Galapagos. The Galapagos trip was the most memorable experience and I have nothing but praise for Mary-Anne, and its delightful crew and for our guide, who put so much effort into making our visit to each island both a pleasure and an education.      - AA (October 2007)
We had a wonderful cruise on the Mary Anne, the boat was very comfortable and the crew and guides could not do enough for us. The food was excellent and there was plenty of it. We would highly recommend the Mary Anne. - MT (March 2006)
Mary-Anne operates a 14 night programme which is a combination of two 7 night cruises: 'East' and 'West', each operating Saturday to Saturday.
An experienced naturalist guide leads daily island, panga (boat) and snorkelling excursions and presentations are given on board. Mary Anne carries kayaks that can be used at certain authorised sites. The use of snorkelling equipment is included, as are short wetsuits. Long wetsuits are available to rent.
East
Day 1 (Saturday): Baltra, Santa Cruz (Caleta Tortuga Negra)
Day 2: Genovesa (Darwin Bay, El Barranco)
Day 3: Bartolomé, Sombrero Chino
Day 4: Rábida, Santa Cruz (Cerro Dragón)
Day 5: Santa Cruz (Highlands, Charles Darwin Research Station)
Day 6: Plaza Sur, Santa Fé
Day 7: Española (Gardner Bay, Punta Suárez)
Day 8: Twin Craters, Baltra
West
Day 1 (Saturday): Baltra, Santa Cruz (Highlands, Charles Darwin Research Station), board yacht in Puerto Ayora
Day 2: Floreana (Punta Cormorant, Post Office Bay)
Day 3: Isabela (Sierra Negra volcano, tortoise centre, wetlands)
Day 4: Isabela (Punta Moreno, Urbina Bay)
Day 5: Isabela (Tagus Cove), Fernandina (Punta Espinosa)
Day 6: Santiago (Puerto Egas, Buccaneer Cove, Espumilla)
Day 7: Santiago (Sullivan Bay), Seymour Norte
Day 8: Isla Mosquera, Baltra
Standard
Cabins 1, 2, 19 and 22 (the smallest cabins with traditional bunk beds) are normally allocated to single passengers. Other cabins are allocated on a first-come, first-served basis.
From
To
Nights
Room type
Price
Mary Anne 7 night cruise
15 Dec 2022
31 Dec 2023
7
Standard
$5,290
1 Jan 2024
31 Dec 2024
7
Standard
$5,555
Christmas and New Year departures will incur a supplement.
Single cabins are available at no supplement, subject to availability.
25% discount for children under 12 years of age.