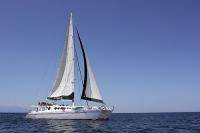 Nemo II
Location
ex Baltra (Galapagos yachts and cruises, Galapagos)
Description
Quick facts - Level: First class | Passengers: 14 | Duration: 7 nights | Length: 72 feet | Cruising speed: 10 knots | Operator: Andando

A comfortable and cosy sail-catamaran with one of the lowest passenger to guide ratios of any Galapagos boat. She has a sun deck and al fresco dining.
Departures
Sundays
Capacity
14 passengers
Activities
An experienced naturalist guide leads daily island, panga and snorkelling excursions. She carries kayaks that can be used at certain sites permitted by the National Park. The use of snorkelling gear is included and wetsuits are available to rent.
Accommodation
7 cabins which vary in size and layout (some with upper and lower berths), but each with a private bathroom and air-conditioning.
Our comments
The low passenger to guide ratio gives you more 1 on 1 time with the guide; great for budding naturalists with lots of questions!
Client comments and reviews
We had a great time in the Galapagos and thoroughly enjoyed it. The boat, guide and crew were fantastic and it all worked really well with the children. The food was very good and we really enjoyed being on a smaller boat even if it meant sailings could be a little rougher. We had a good mixed group that was on the younger side which was great. The larger boats seemed to have more elderly passengers. With fewer passengers getting on and off the boat was easy. We would fully recommend Nemo II and its crew. - SS (May 2014)
Nemo II operates a 14 night programme which is a combination of two 7 night cruises, a north itinerary and south itinerary (both Sunday to Sunday).
North Itinerary
Day 1 (Sunday): Baltra, Seymour Norte
Day 2: Santa Cruz (Highlands, Charles Darwin Research Station)
Day 3: Isabela (Punta Moreno, Urvina Bay)
Day 4: Isabela (Tagus Cove) Fernandina (Punta Espinosa)
Day 5: Santiago (Puerto Egas, Buccaneer Cove)
Day 6: Rábida (Sullivan Bay)
Day 7: Genovesa (Prince Philip's Steps, Darwin Bay)
Day 8: Daphne, Baltra
South Itinerary
Day 1 (Sunday): Baltra (Bachas Beach)
Day 2: Santa Cruz (Highlands, Charles Darwin Research Station)
Day 3: San Cristóbal (Cerro Brujo, Lobos Island)
Day 4: Española (Punta Suárez, Gardner Bay)
Day 5: Floreana (Punta Cormorant, Post Office Bay)
Day 6: Santa Fé, Plaza Sur
Day 7: Sombrero Chino, Bartolomé
Day 8: Caleta Tortuga Negra, Baltra
Standard cabin
Cabins 3 and 4 have a small double upper bed and single lower bed.
Superior cabin
Cabins 1 and 2 have a small double bed.
Twin cabin
Cabin 5 has a lower double and an upper single bed.
Cabins 6 and 7 each have a lower single and an upper single bed.
Child discount available for children under 12 years. Minimum age 6 years.
Christmas and New Year departures will incur a supplement.