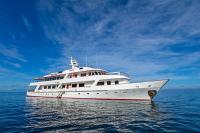 Passion
Location
ex Baltra (Galapagos yachts and cruises, Galapagos)
Description
Not operating until further notice
Quick facts - Level: First class | Passengers: 14 | Duration: 4/5/7 nights | Length: 159 feet | Cruising speed: 10 knots | Operator: Andando

An elegant motor yacht with stabilizers to minimize motion at sea. Built as a private luxury yacht she still retains many of her original features, such as her unique rose-coloured marble bathrooms and teak decks. She has a panoramic sky lounge, a bar, and sun deck with hot tub.
Departures
Saturdays
Capacity
14 passengers
Activities
An experienced naturalist guide leads daily island, panga and snorkelling excursions and presentations are given on board. Passion carries kayaks that can be used at certain sites permitted by the National Park. The use of snorkelling gear and wetsuits is included.
Accommodation
5 Staterooms with private bathrooms; 1 Master Suite and 1 VIP Suite each of which have 2 bathrooms. The Master Suite has an extra sofa bed so can sleep up to 3. All cabins are air-conditioned.
Client comments and reviews
The boat was spectacular. The crew were very efficient, we ate most meals outside and there was plenty of great food, the chef did not disappoint. The common areas were very nice and great service from the barman. The guide was excellent, with more than 30 years experience and he did a great job guiding in Spanish and in English - he knew everything there was to know about every plant, fish, bird and bug on the islands! The cabin itself was comfortable and had enough storage for two large suitcases. - OF (April 2023)
Passion operates a 14 night programme which is a combination of two 7 night cruises: 'East' and 'West', each operating Saturday to Saturday. 4 night and 5 night programmes are also possible.
East
Day 1 (Saturday): Baltra, Santa Cruz (Caleta Tortuga Negra)
Day 2: Genovesa (Darwin Bay, El Barranco)
Day 3: Marchena (Punta Espejo), Santiago (Sullivan Bay)
Day 4: Bartolomé (Pinnacle Rock), Santa Cruz (Cerro Dragón)
Day 5: Santa Cruz (Highlands, Charles Darwin Research Station)
Day 6: Plaza Sur, Santa Fé
Day 7: Española (Gardner Bay, Islet Gardner, Islet Osborn, Punta Suárez)
Day 8: Santa Cruz (Twin Craters), Baltra
West
Day 1 (Saturday): Baltra, Santa Cruz (Charles Darwin Research Station)
Day 2: Floreana (Punta Cormorant, Devil's Crown, Post Office Bay)
Day 3: Floreana (Playa Negra)
Day 4: Isabela (Punta Moreno, Urvina Bay)
Day 5: Isabela (Tagus Cove), Fernandina (Punta Espinosa)
Day 6: Fernandina Island, Santiago (Espumilla Beach, Buccaneer Cove, Puerto Egas)
Day 7: Santiago (Sullivan Bay, lava flows), Seymour Norte
Day 8: Isla Mosquera, Baltra
Stateroom
5 Stateroom cabins with different bed arrangements (a queen; a double; twin beds; and two cabins with a double and a single).
Suite
1 Master suite on the main deck with king-size bed and 1 VIP suite on the cabin deck with king-size beds. Both have a private lounge area and 2 private bathrooms.
Prices per person. Where entries are not shown for all cabin/room types we have chosen an entry level example, so please just ask us for other types. See below for more price notes.
From
To
Nights
Room type
Price
Passion 7 night cruise
1 Jan 2023
31 Dec 2023
7
Stateroom
$6,130
Suite
$7,220
1 Jan 2024
31 Dec 2024
7
Stateroom
$6,743
Suite
$7,942
Christmas and New Year departures will incur a supplement.
Single supplement is 80%.
40% discount for children under 12 years of age who share a cabin with 2 adults making it a triple.
25% discount for the second adult in cabin 5 on the Sky deck (which has a standard double bed).