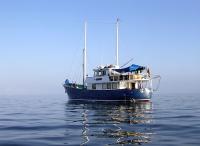 Samba
Location
ex Baltra (Galapagos yachts and cruises, Galapagos)
Description
Quick facts - Level: First class | Passengers: 14 | Duration: 7 nights | Length: 78 feet | Cruising speed: 8½ knots | Operator: Galapagos Experience

A charming steel-hulled motor yacht with stabilizing sail, Samba has both indoor and outdoor dining areas, and is very good value for money.
Departures
Tuesdays
Capacity
14 passengers
Activities
An experienced naturalist guide leads daily island, panga and snorkelling excursions and presentations are given on board. Samba carries kayaks that can be used at certain sites permitted by the National Park. The use of snorkelling gear and wetsuits is included.
Accommodation
7 cabins; 6 with single upper and medium-sized, not quite double, lower berths and 1 (cabin 7) with a double bed, all with ensuite bathrooms.
Our comments
Very good value for money.
Client comments and reviews
Galápagos far exceeded my expectations and the Samba was perfect for us and we were amongst like-minded people. Salvador, our naturalist, educated us in the nicest possible way, morning, noon and night; he was so knowledgeable and personable. Snorkelling was wonderful, I especially enjoyed the sea lions that lazily swam with me, amongst hundreds of other wonderful memories. Walking amongst birds that had no fear was amazing. - LC (November 2013)
I loved the Galapagos, I saw all the animals I have wanted to see for many years, it was hard to believe that we were actually there and it looked just like the pictures, really amazing. The group on Samba were very friendly and we all got on well. The guides were excellent, very knowledgeable, friendly and professional. - AB (April 2010)
It was charming. OK; it was a bit on the small side but it was cozy, with every nook and cranny crammed with essential supplies from table cloths and napkins to snorkeling gear and reference books. The main boudoir had a huge polished wooden table and two dispensers that provided a constant supply of tea and coffee. The decks had many comfy seating areas with easy access to the bridge and 2 smaller zodiac boats for ferrying us to and from shore were stowed neatly on the sides. It was lovely. And more was to come, the food served there was excellent, 3 meals a day and snacks were magiced from the small kitchen. - IK (January 2010)
Samba was recommended to some of the travellers by a travel agency in Guayaquil where they reside. The recommendations and our experience confirmed the excellent organisation onboard, the courteousness of the Ecuadorian crew, captain, guide, and chef, and the basic but comfortable bunks and ensuite accommodations (air conditioned).  Fabian, our naturalist guide, had excellent knowledge of the islands, spoke very good English, and presented very clear materials in our nightly briefing sessions that included history of the islands, weather, currrents, whales, other sea life, and useful information on flora and fauna. We were always informed of the activities of the succeeding day and a bell was rung when whales, dophins, etc. were spotted by the captain and crew. The age range was mainly 30s-40s so we were in the elderly slot but the group dynamics were enthusiastic and the rapport was excellent. - NW (March 2009)
For me there was a good balance or excursions and lesiure time and when one wanted to opt out, one could. I enjoyed all the islands as they were all different and sharing the cabin worked out so well. - ED (March 2009)
The Galapagos was wonderful and our guide on the Samba was extremely knowledgable so we were able to see and learn so much about the wildlife. - MH (December 2007)
The Samba was a good sized boat and the food was more than enough. Accommodation in cabins was good and the crew were great. The guide was very knowledgeable and I think that made the trip as he was able to give us so much more detail that it seemed guides in other boats were giving. We met people in Bella Vista who had been on the Samba and they had had a brilliant trip a week before - so it was consistent. - AH (August 2006)
The Samba crew and guide were excellent - knowledgeable and friendly, and being a smaller boat, the Samba was really good. The whole itinerary and travel worked very well - thanks for setting us up such a good trip. - DA (May 2005)
The Samba cruise was outstanding. The crew and guide were excellent and did everything (and more) to make it a very special trip. Our guide (Maurice Garcia) is a diver and marine specialist so he got us to quite a few off the beaten track sites for snorkelling. The island visits were also exceptional with outstanding wildlife and we usually encountered few other visitors. Also must mention the food. The chef worked tirelessly to produce imaginative meals based on very fresh fish and vegetables. Some of his fish dishes were among the best I have eaten anywhere. Vegetarian food was excellent too. - EB (March 2005)
Samba operates two 7 night cruises which can be combined into a 14 night cruise.
Pristine and Born of Fire: North and West
Day 1 (Tuesday): Baltra, Santa Cruz (Bachas Beach)
Day 2: Genovesa (Darwin Bay, Prince Philip's Steps)
Day 3: Marchena (Punta Mejia, Playa Negra)
Day 4: Isabela (Punta Albemarle, Punta Vicente Roca)
Day 5: Fernandina (Puna Espinosa), Isabela (Urvina Bay)
Day 6: Isabela (Elizabeth Bay, Punta Moreno)
Day 7: Isabela (Las Tintoreras, Giant Tortoise Breeding Centre, Sierra Negra)
Day 8: Santa Cruz (Highlands), Baltra
Oceanic Forces and Enchanted Land: South, East and Central
Day 1 (Tuesday): Santa Cruz (Highlands), Baltra
Day 2: Floreana (Punta Cormorant, Champion, Post Office Bay, Barroness Lookout)
Day 3: Española (Punta Suárez, Gardner Bay, Gardner Island)
Day 4: San Cristóbal (Isla Lobos, Kicker Rock, Punta Pitt)
Day 5: Santa Fé (Barrington Bay), Plaza Sur (Punta Carrión)
Day 6: Santiago (Sullivan Bay), Bartolomé
Day 7: Rábida, James (James Bay)
Day 8: Seymour Norte, Baltra
Standard
Double lower and single upper berth with air-conditioning and private bathroom.
Single
Standard cabin for single use.
Prices per person. Where entries are not shown for all cabin/room types we have chosen an entry level example, so please just ask us for other types. See below for more price notes.
From
To
Nights
Room type
Price
Samba 7 night cruise
1 Jan 2024
31 Dec 2024
7
Standard
$4,800
Single
$7,200
Christmas and New Year departures will incur a supplement.
30% discount for children aged 7-11 when travelling with an adult and sharing a cabin.