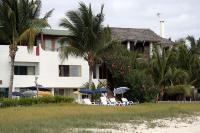 La Casa de Marita
Location
On the beach (Isabela (Albermarle), Galapagos)
Description
Peruvian Marita de Zecchettin and her Italian husband run this popular and well-known boutique hotel, which is right on the beach in front of Puerto Villamil village. They have a good restaurant and charming staff. As the building has grown organically it is slightly quirky.
Activities
Local trails, beach, and a good base for the Sierra Negra volcano hike.
Accommodation
Rooms are either on the beachfront, in the tropical garden, or on the other side of a sandy road. All rooms can accommodate up to 3 people and have air conditioning, hot water, and private bathrooms with shower.