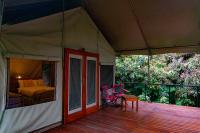 Scalesia Lodge
Location
Highlands of Isabela (Isabela (Albermarle), Galapagos)
Description
A tented camp on a 16 hectare property in the misty highlands of Isabela island, about 14km (a 20 minute drive) from the town of Puerto Villamil. In the main building there is a communal lounge for relaxation and reading as well as a dining room.
Activities
Available activities include mountain biking, hiking, kayaking, snorkelling and surfing.
Accommodation
There are 16 safari-style tents each with their own en-suite bathroom and a private deck. Some have a view towards the ocean and others are surrounded by well-kept gardens.
Our comments
It has the potential to become a wonderful place with some operational fine-tuning, and additional on-site facilities.